Up until now, there haven't been universal standards for cleaning procedures for MRIs. Usually, these cleaning standards vary from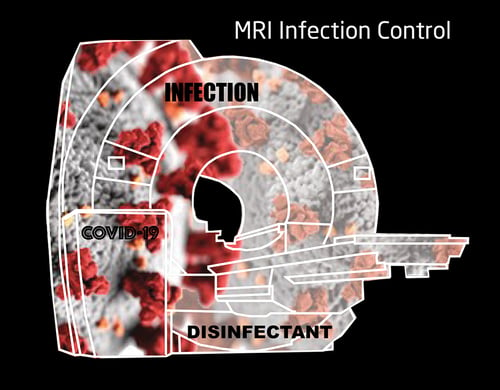 hospital to hospital. There simply aren't clear recommendations for radiology departments. But with the COVID-19 pandemic, the world may become a cleaner, safer place.
The big questions about MRI are these: how should you handle the issue of airflow? How can you clean inside the bore? Should there be different cleaning protocols for confirmed infected patients versus non-infected? Or, should you assume that everyone is a potential infection risk?
Three MRI specialists recently weighed in on how they handle infection control in their hospitals.
Prof. Dr. Thomas J. Vogl, PhD, head of Department of Diagnostic and Interventional Radiology, Frankfurt University Hospital, Germany:
Dr. Vogl said that his department has conducted more than 100 CT scans, but only a few MRI exams on suspected/known COVID-19 patients. Their strict disinfection protocol for cleaning the MRI unit and the entire room is this: Everything is emptied, the airflow is stopped and then the inner bore of the scanner is cleaned with a special liquid disinfectant. The disinfection is done by special cleaners wearing full PPE. Three hours are scheduled between each patient.
Prof. Dr. Alexander Radbruch, chair of diagnostic and interventional neuroradiology, Rheinische Friedrich Wilhelms University Bonn, Germany:
There are standard operating procedures after each patient with suspected COVID-19, including thorough disinfection of all surfaces and the bore of the MRI. Once the cleaning is complete, the next patient can't enter for an additional hour. They don't stop the airflow in the MRI, assuming that a consistent airflow might help change the potentially contaminated air in the scanner.
There is a standard wipe disinfection within the bore, but they don't believe additional spray disinfection or room nebulization are necessary. The standard operating procedures are identical for all contagious patients within the MRI Suite. He did say that the number of patients with COVID-19 is relatively low. That said, they are prepared.
Felicity Lacchin, MRI Superintendent Radiographer, University College London Hospital:
We don't stop the airflow when we clean the MRI Scanner. The process takes about 20 minutes and the timing depends on the ventilation. Our radiographers reach into the bore to clean the machine. We are looking into suitable alternatives. As of now, now additional sprays are used.
For suspected or confirmed COVID-19 cases, all equipment that can't be covered or removed from the environment is cleaned after a patient's examination. For non-COVID-19 cases, only the scanner/coils are cleaned, as well as additional areas like cannulation chairs/lockers.
At the height of the pandemic, we treated all emergency room patients as suspected cases and the number was very high.
As a rule, we recommend:
Designating a scanner for all suspected/positive patients
Ensuring staff are kept informed of personal protective equipment (PPE) and cleaning guidelines
Establishing an inpatient and outpatient pathway for suspected/positive patients
Establishing a pathway to identify patients that may have been a clinical risk if they were not scanned during the height of the pandemic, i.e. two-week wait, cancer follow-ups.
Establishing a pathway for COVID-19 shielded patients (i.e., patients who are clinically extremely vulnerable)
Reviewing pathways regularly— there were numerous changes weekly when the pandemic was at its height
Reviewing protocols with radiologists. For example, University College London Hospital now includes arterial spin labelling (ASL) for all patients with suspected or confirmed COVID-19 because evidence suggests there is a vascular component to the disease.
The American College of Radiology Recommends:
60 minutes of downtime between patients after all surfaces have been thoroughly cleaned
Don't bring powered air-purifying ventilators into Zone IV as there are potential adverse interaction risks with the MRI's ferromagnetic components. If magnetic components are present, providers should remove them and temporarily replace the magnets with tape.
If inpatients have metal strips in their masks, fit them with MRI-safe alternatives before they enter the radiology department. If that's not possible, remove the magnetic strip before bringing them into the medical imaging suite.
If you are in need of medical imaging equipment during this challenging time, talk to the experts at Atlantis Worldwide. A refurbished or used MRI or CT Scanner might deliver the performance you need at a price you can afford. Stay safe!
Follow Atlantis Worldwide on Twitter: @AtlantisLLC
Other blogs you may have missed:
About the author: Vikki Harmonay