We know what's it's like. Your healthcare facility, clinic or practice needs a new C-arm. And everyone has an opinion. This bright, new shiny toy that just came out. Look at this brand. Don't spend too much. Make sure you get the right size. Maybe we can't afford one. We're sure we can't afford not to. Where are you going to buy it? Talk to my cousin, he can get you one.
And it's your job to make everyone happy. Sigh.
Before you stand on the ledge, pull your hair out or order that third top shelf margarita, take a deep breath.
Atlantis is happy to provide you with this handy checklist that can help you figure out exactly what you need, and more importantly, what you don't. For example, if you're using it for cardiac or orthopedic services, by all means, go for the fully loaded C-arm with all the bells and whistles. We can help you find that. But if you need it for interventional pain management services, a relatively basic C-arm can fit your needs, and put less strain on your budget.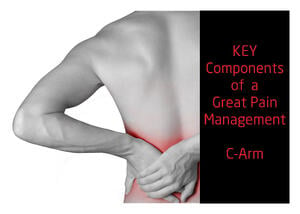 Here are a few things to keep in mind for your pain management c-arm:
• Make sure you get crisp, clear image resolutions. Your physicians will need it in order to navigate the needle.
• Make sure the C-arm is housed in a room that is large enough to provide clearance space, so physicians can manipulate the C-arm to get a better view without having to reposition or move the patient.
• Remember, a bigger sized "C" makes it easier to work with large patients.
• If you plan to store the C-arm at night, make sure it's easy to move and has the clearance for hallways and doorways.
• If you have a high volume practice, you want a C-arm with a rotating anode so the cool-down time required is less
• Make sure you purchase an image-capturing device for your C-arm, so you can store patient images.
• Buy a C-arm with the features you need not more and not less.
• Don't spend more than your budget. A used or refurbished unit can cost 30-40% less than a brand new C-arm, which helps your budget go further.
• Remember that the experts at Atlantis Worldwide are here to help. We can help you determine the best solution for your needs. And then we'll buy you that top shelf margarita!
Please give us a call and we will be happy to help you find the Best Pain Managemnt C-Arm to fit your needs! 800-533-3356
Meet the author: Vikki Harmonay