If you do not have a C-Arm yet, but are planning on purchasing one soon, you should consider where the C-Arm procedures will be best performed. What size room do you need to house the C-Arm and table?
The room should be at least 10 x 12 feet. This is really a rather small room where it will be a tight fit with a standard size C-Arm and table. You should have just enough room to maneuver the C-arm and access the patient. If you can utilize a bigger square space it will be more comfortable. The mobile C-Arm's lower portion must be low enough to fit underneath C-Arm table.
Here is a list of popular standard C-Arms and there sizes: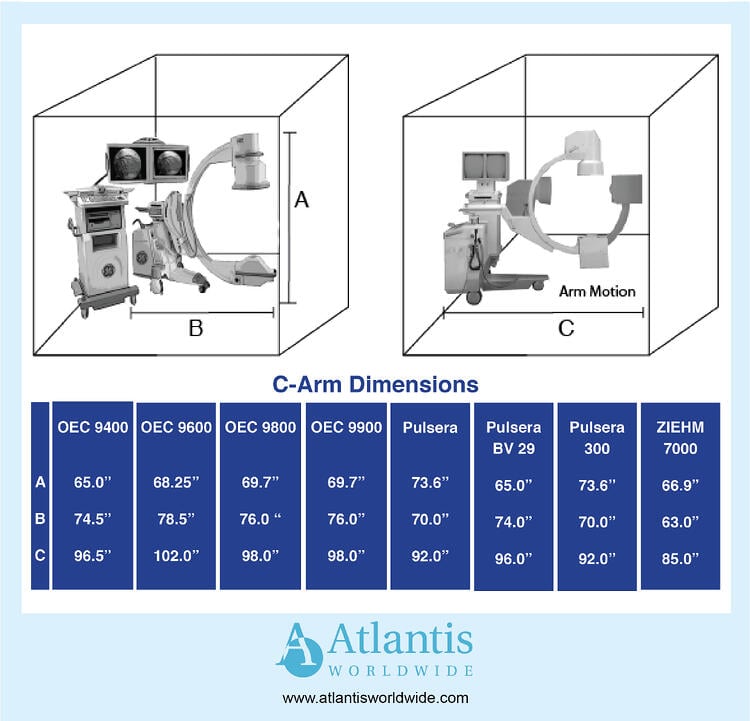 Other Considerations:
When planning other parts of the room there should also be other considerations. C-Arms operate on 110V, 12-15 Amps so a standard outlet is all you need. It is also advised that you plug nothing else into the outlet except the C-Arm to alleviate potential power spikes. Then the C-Arm will also have a dedicated circuit.
Another thing you will need when planning your room to consider is the lighting in the room. Where will that be located and is it sufficient?
The C-Arm gets hot during Fluoro and should have adequate cooling for the space.
Fluoroscopy & Radiation
On the average, fluoroscopy delivers a dose of approximately 5 rads per minute in the direct beam. The thickness of the patient also determines the exposure rate. Even small doses of radiation can damage DNA.
Federal regulations do limit the maximum output for C-Arms, and there are a range of techniques to reduce the risk in private practice settings.
Lead Shielding
If there are any walls of the procedure room that abut a common wall where there may be pregnant women or children for long period of times you may want to consider shielding that wall.
Does your state require lead shielding for C-arm use? Regulations regarding the level of lead shielding vary from state to state. Some locations portable shields and aprons are sufficient, in others drywall of 5/8" are required. Leaded drywall in a operating room might be needed.
You should research radiation protection policies for your state, where in the building your C-Arm will be located, and whether your C-Arm unit will be moving or remain stationary. It is a good idea to have an evaluation of your site.
For a free consultation contact Alex Silbergleit at 212-366-9100 or alex@atlantisworldwide.com