Two of the most important shows in the medical imaging and health care industry are scheduled for the same weekend this year—and half a country apart. AHRMM will be in San Diego and AHRA will be in Minneapolis. Atlantis Worldwide is excited because members of our team will be at both shows!

The AHRMM Show will be focusing on launching the Cost, Quality and Outcome movement for supply chain professionals and addressing the question, "How can hospitals remain financially viable in the midst of health care reform?" We're looking forward to being a part of this important conversation, and providing solutions for current and future customers. After all, refurbished imaging equipment can help hospitals, clinics, practices and facilities save money and satisfy patient needs.
We look forward to seeing old friends and making new ones in San Diego—as well as being able to spend some time in this gorgeous part of the country. If you're looking for a great restaurant in San Diego, this is a great resource: http://www.sandiegomagazine.com/San-Diego-Magazine/June-2013/Best-Restaurants-2013. And while everyone knows the San Diego Zoo is one of the top attractions there, if you haven't done the drive to LaJolla, do it! It's just 15 minutes from San Diego and filled with galleries, beach walks, cultural activities and a beautiful scenic drive.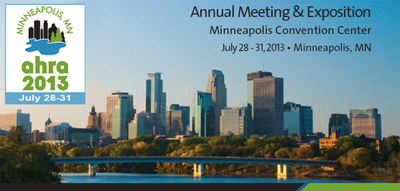 For those of you who are attending AHRA in Minneapolis, be sure to come see Atlantis Worldwide at Booth 348. This year's conference is focusing on the major changes the medical imagining industry will be facing in the next few years. The new era of value-based purchasing, pay for performance, focus on quality and lower costs and the importance of improved outcomes is chock full of challenges. The good news is, Atlantis Worldwide has proven solutions to help manage imaging quality and costs.
While we haven't been to Minneapolis before, we did touch base with a friend who works for NPR there, and he provided us with some great tips about dining in the city. Nicolette Avenue is considered "Eat Street" in Minneapolis, with a wide range of popular and affordable ethnic restaurants. In the northeast part of downtown, you can't go wrong at the Sea Change restaurant, attached to the famed Guthrie Theater. Hell's Kitchen is also nearby and a good bet. If you want to hear some cool jazz, check out The Dakota in downtown for great food and live music. And the North Loop neighborhood is an up and coming destination with the Smack Shack (lobster rolls) and Black Sheep Pizza near the Twins ballpark. If the weather's nice, take the light rail train to the Minnehaha Park stop (50
th
Street) and go to Minneapolis favorite Sea Salt.
It's always great to reconnect and network with you at conferences—but it's also nice to take some time away from the conference to enjoy the city. We look forward to seeing you at the conference!