Determining whether your practice, hospital or medical facility should keep their equipment or purchase new/used medical imaging equipment can be complicated-unless-you know what questions to ask, steps to take and numbers to crunch. But before you throw your hands into the air and say, "I'll think about that tomorrow," there's good news! Atlantis Worldwide has put together an eBook that will guide you step by step to the right decision. It's called, "Extend The Life of Your Medical Imagining Equipment or Replace It?" and it's yours, free of charge.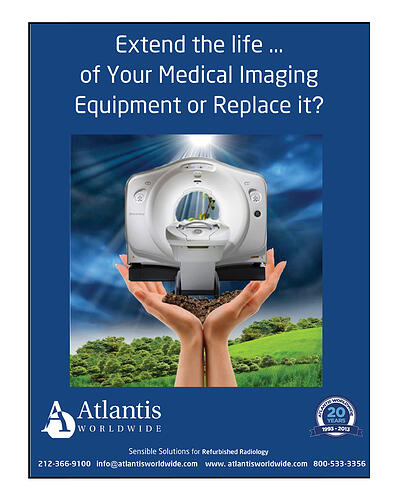 As healthcare continues to change, healthcare providers are being tasked with reducing costs while increasing the quality of patient services. That's why buying refurbished medical imaging equipment is becoming more popular, and more practical. This handy eBook provides information about:
• Evaluating your capital equipment
• Service and maintenance decisions
• Benefits of buying pre-owned medical equipment
• Top considerations before buying (or installing) an MRI
• Extending imaging equipment life with software upgrades
• And more
Whether you choose to work with the experts at Atlantis Worldwide or not, this guide will help you and your organization make informed decisions about buying, selling and leasing medical imaging equipment.
Click here to download your copy. And here's to a happy, healthy, prosperous 2014!
Contact us today at 212-366-9100
Meet the Author: Vikki Harmonay