We've talked to lots of our clients lately about whether to expand digital imaging services into a mobile or modular environment. Sometimes expanded facilities are needed during construction on a current facility or when existing equipment is being replaced. Other clinics, practices or hospitals need to offer or expand their imaging services, but lack the capital or available space to do so within the walls of the facility. In all of these situations, a mobile or modular environment can be a great solution. (And even better while utilizing a used or refurbished MRI or CT Scan, but we'll get to that later.)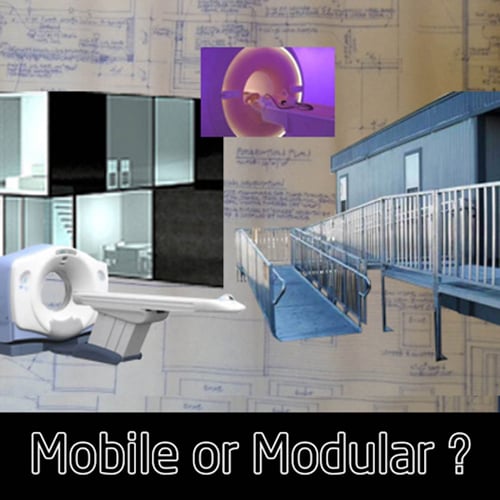 There are a few things you need to explore before making a decision about which solution is best for you.
It's important to view current patient volumes and forecast potential patient volumes to determine the actual needs for the imaging.
Examine the clinical and referral requirements for the imaging modality.
Perform a complete market analysis of other facilities, clinics and hospitals.
Compare the costs of a mobile versus a modular environment versus an installation within your own building.
Talk to an industry expert (Like Atlantis Worldwide) for insights and options
Remember, the goal is to identify the right technology in the best environment for the facility at a cost that makes sense.
What You Should Know About a Mobile Environment
A "mobile" environment for a CT or MRI is a complete housing for the system, including all self-contained components that are required, as well as patient area and technologist workspace. All of these will be housed in a highly specialized trailer, which is typically 48 feet long. While a mobile trailer is configured for the specific requirements of a CT or MRI, it is built on an under-carriage, which can support the weight of the imaging system it carries.
With a CT, the mobile environment offers lead-lined walls. With an MRI, the trailer has magnetic and RF shielding installed.
As a mobile, the system trailer has tires and can be moved from place to place. When a mobile reaches its destination, it can be placed in an area designed for the system. A secure pad for siting may be required, based on regulations for weight distribution, site conditions, engineering demands and building codes.
Other considerations regarding using a mobile trailer on site at your facility include:
• Patient access
• Water
• Power (480/3 phase) and shoreline power access
• Adequate space for the delivery of the mobile environment and positioning. (Includes a significant turn radius)
• Environmental elements that could affect the MRI, like moving traffic, power cables, vibration and access for cryogen deliveries
• The ability for the imaging equipment to be serviced on site
• Note: Trailer mechanical equipment will require separate contractors for HVAC and trailer hydraulics
What You Should Know About a Modular Environment
A "modular" building (or buildings) may be a short or long term solution for housing medical imaging services for hospitals, clinics and other facilities. Modular buildings have the same look and feel as that of an imaging suite within the four walls of your institution.
The modular units that are used as imaging "suites" are usually 60 feet in length and 14 feet in width, but the size does vary. As with a mobile environment, the modular imaging environment is designed for patient comfort and technologist workflow efficiency. The interiors are designed with medical grade materials to insure the health and safety of patients and staff.
Similar to the mobile environment, a modular building can be designed to hold an MRI or CT of any size, type and from any manufacturer.
Modular buildings are larger than mobiles, are more spacious and offer room for ancillary rooms. There are modular building with tires that can be moved and those without tires that are designed to be permanently placed. Modular buildings can be configured with ground level entry or a small wheelchair accessible ramp, rather than the hydraulic lift required with a mobile trailer.
A modular unit will be placed on a foundation and are often attached to a main building and utilities. Often a direct corridor will be constructed that enable patients consistent access to the modular building.
Modular and mobile systems do require 480 Volt, 3-phase power with 150 Amp service. Some of the imaging systems may require chiller water.
When it comes to solutions to imaging issues, it's also wise to talk to an expert. Atlantis Worldwide can provide answers, guidance and turn key solutions for your imaging needs. Whether you need an MRI, CT or any other imaging modality—to be housed in a mobile, modular or traditional environment, we can help!
For more information please contact us!
Some blogs you may have missed: