When it comes to C-Arms, OEC and Ziehm are big players. They both deliver high quality C-Arms to the marketplace. So, how do you know which to choose when you're ready to buy a C-arm?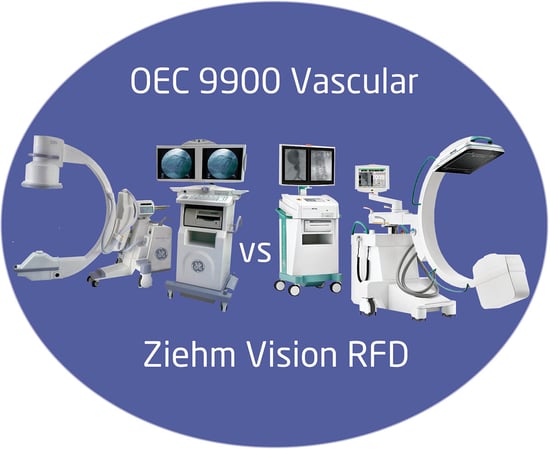 The experts at Atlantis Worldwide put together this comparison between the OEC 9900 Vascular and the Ziehm Vision RFD, examining major components, parts, service, pricing and overall ownership experience. Both serve the full spectrum of vascular fluoroscopy needs so it's the finer details that will help you decide which one will be the right choice.
Image Intensifier vs. Flat Detector
The biggest differentiator between the two systems is this: the OEC 9900 Vascular has an image intensifier (II). This technology has been around for a long time and is quite reliable. It produces diagnostic-quality images.
The Ziehm Vision RFD has a flat digital detector, who allows for higher image resolution and immediate image transfer from the detector to the workstation. It also has a lower emission of radiation as compared to a C-Arm with an image intensifier.
With the OEC 9900, the image quality is similar to the digital detector. But, the Vision RFD delivers a better overall experience when capturing, transmitting and storing images. It's quick and convenient.
Tubes And Generators
The Ziehm Vision RFD is more powerful than the OEC 9900, with a tube that offers a higher heat capacity at 5,000,000 HU vs. the 9900's 300,000 HU.
The generator of the Vision RFD has a distinct advantage regarding extended studies and consistently high patient volume. It produces a range of 40-120 kW at 100kVp vs. the 9900's peak of 15 kW.
Frame Rate
The 9900 has a slight advantage in terms of smooth cine runs. It delivers 30 frame per second rate vs. Vision RFD's 25 frames per second.
Cost Of Service
The service and replacement parts signify the biggest difference between the two C-Arms. The OEC 9900 has a much larger install base nationwide and as a result there is a higher quantity of service parts as well as engineers that are familiar with the OECs. Service for the Ziehm Vision RFD will cost significantly more than the OEC 9900 as the cost in general for Ziehm parts is much higher, especially for the digital detector.
Talk To An Expert
If you can't decide which C-Arm is right for you, talk to the experts at Atlantis Worldwide. We've been helping healthcare facilities find ideal medical imaging solutions on the secondary market for more than 30 years and would love to help you.
Some blogs you may have missed:

About the author: Vikki Harmonay