Any clinic, hospital or practice providing imaging studies knows that times are changing, when it comes to reimbursement. It all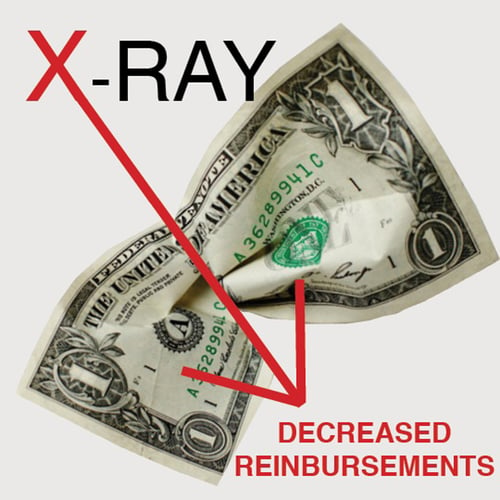 started when The Consolidated Appropriations Act of 2016, was voted into law in 2015 and affect payments for imaging studies in 2018.
That in itself, is confusing, before we even start talking about what the Consolidated Appropriations Act actually means!
Here it is, in a nutshell. Medicare payments will be reduced by 20% for providers sending in claims for analog x-ray studies starting in 2017. Beginning in 2018, payments for imaging studies performed on CR equipment will be reduced by 7% for the next five years. After that, payments are reduced by 10%. More than 8,000 CR units are still in service in the U.S., and unless they are replaced with DR equipment, reimbursement will be reduced.
The federal government stands to save $350 million over the next 10 years. But again, imaging studies on CR equipment will be reimbursed at a lower level.
If you own CR equipment, you'll need to decide whether to spend the money to upgrade your CR equipment to DR, or live with that 7-10% reimbursement reduction. According to a 2015 x-ray report by IMV Medical Information Division, 62% of hospitals were already planning to buy either a new x-ray system or a DR retrofit kit in the near future. Of these, 70% of sites with fixed CR systems are planning purchases.
There are many advantages to DR conversions, including improved workflow, gains in efficiency and lower radiation doses. In addition, digital imaging makes it possible to lower the cost per procedure by allowing for higher throughput in imaging centers.
Not sure if you should upgrade your current system or buy a new DR system? Is your best solution to buy a used or refurbished system? Talk to the experts at Atlantis Worldwide. We'll help you determine the most cost effective solution for your clinic, hospital or practice. Alex can help you upgrade your current X-Ray system to DR at a reasonable cost.
Some blogs you may have missed: