SafeCT Affordably Delivers Diagnostic Quality CT Images Using Iterative Image Reconstruction
Yonkers, NY and Tirat Carmel, Israel (June 25, 2012) – Atlantis Worldwide, LLC and Medic Vision Imaging Solutions Ltd. have joined forces to provide U.S. hospitals and clinics with the capability to produce high quality diagnostic CT images from low-dose scans acquired on existing CT scanners by top manufacturers. Medic Vision, a leading producer of iterative image reconstruction solutions for medical imaging, has selected Atlantis Worldwide, a leading full-service provider of diagnostic imaging systems, as its exclusive partner to distribute the SafeCT™ CT image-enhancement system to hospitals and imaging centers throughout the United States.
"We are excited to offer an affordable way for hospitals and imaging centers to use low-dose protocols without compromising quality," said Atlantis Worldwide CEO Jeff Weiss. "SafeCT provides our customers with an add-on system that will deliver enhanced image quality from low-dose scans without having to replace their equipment. It's a great alternative to what OEMs offer radiology practices." He continued, "Coincidentally, SafeCT is quite timely considering the growing concern over medical imaging radiation in the medical community and the public at large."
SafeCT is a ready, universal add-on solution for CT scanners manufactured by GE, Siemens, Toshiba and Philips. Based on unique proprietary, patented image reconstruction technology and sophisticated volumetric algorithms, SafeCT delivers the diagnostic quality images that radiologists require. A single SafeCT system provides robust SNR-enhanced imaging functionality to multiple CT scanners from different manufacturers starting with four-slice and higher CT scanners.
"Our partnership with Atlantis Worldwide ensures that SafeCT is broadly available and that diagnostic quality images from low-dose CT scans are a viable option for medical imaging practices across the United States, regardless of size or budget," said Medic Vision CEO Eyal Aharon.
SafeCT has been clinically validated at leading medical centers in Israel and the U.S. Since its FDA clearance, it has delivered high quality diagnostic images for more than 20,000 patients scanned with low dose CT protocols in the U.S. "The processed images rival or surpass those processed by proprietary iterative image reconstruction solutions available from major CT manufacturers on their top-tier CT models," added Aharon.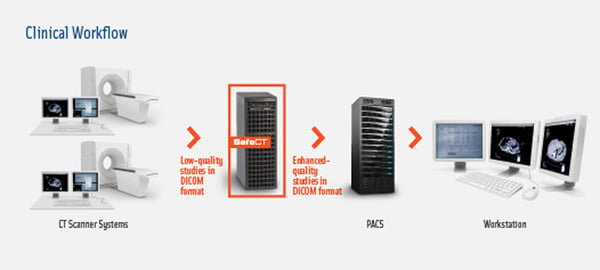 About Medic Vision
Established in 2006 and based in Tirat Carmel, Israel, Medic Vision specializes in medical imaging solutions that utilize sophisticated proprietary algorithms for fast and precise image reconstruction. The company's FDA-approved SafeCT system is a universal add-on solution compatible with all CT scanners, making it the only adequate image enhancement solution for the existing CT installed base. For further information visit www.medicvision.com.
About Atlantis Worldwide
For 19 years, Atlantis Worldwide has been one of the world's largest resellers of diagnostic imaging systems. Utilizing a consultative approach, Atlantis's experienced team provides customers with up-to-date, accurate information combined with common sense advice. Atlantis Worldwide has built success through word-of-mouth recommendations and long-term relationships with providers of imaging services around the globe. Our 10,000-square foot warehouse and corporate headquarters is located in NY. For additional information visit http://www.atlantisworldwide.com or call 212-366-9100.