Imagine being able to get better image quality in every CT scan. Or being able to use low-dose protocols and still achieve diagnostic CT images—all this without having to replace or upgrade your current CT scanners. Sounds too good to be true?
Well, you can! And without a magic wand or a fairy godmother.
Atlantis Worldwide is now offering SafeCT to providers of CT services throughout the United States. SafeCT is an add-on iterative image reconstruction system for CT scanners, significantly enhancing image quality of scans acquired at any radiation dose. And with recent headlines and articles in the media questioning the safety of standard CT scan radiation levels, it couldn't have come at a better time.
As the public becomes more aware and concerned about radiation exposure, it's important for the medical community to be sensitive to these concerns. After all, CT scans are effective and often lifesaving, and we want people to take advantage of this technology.
SafeCT improves the image quality of your CT scans, so your radiologists and referring physicians can get a clearer picture of what's going on inside the body. And here's more good news: a single SafeCT can serve multiple scanners simultaneously—even when they're in different locations!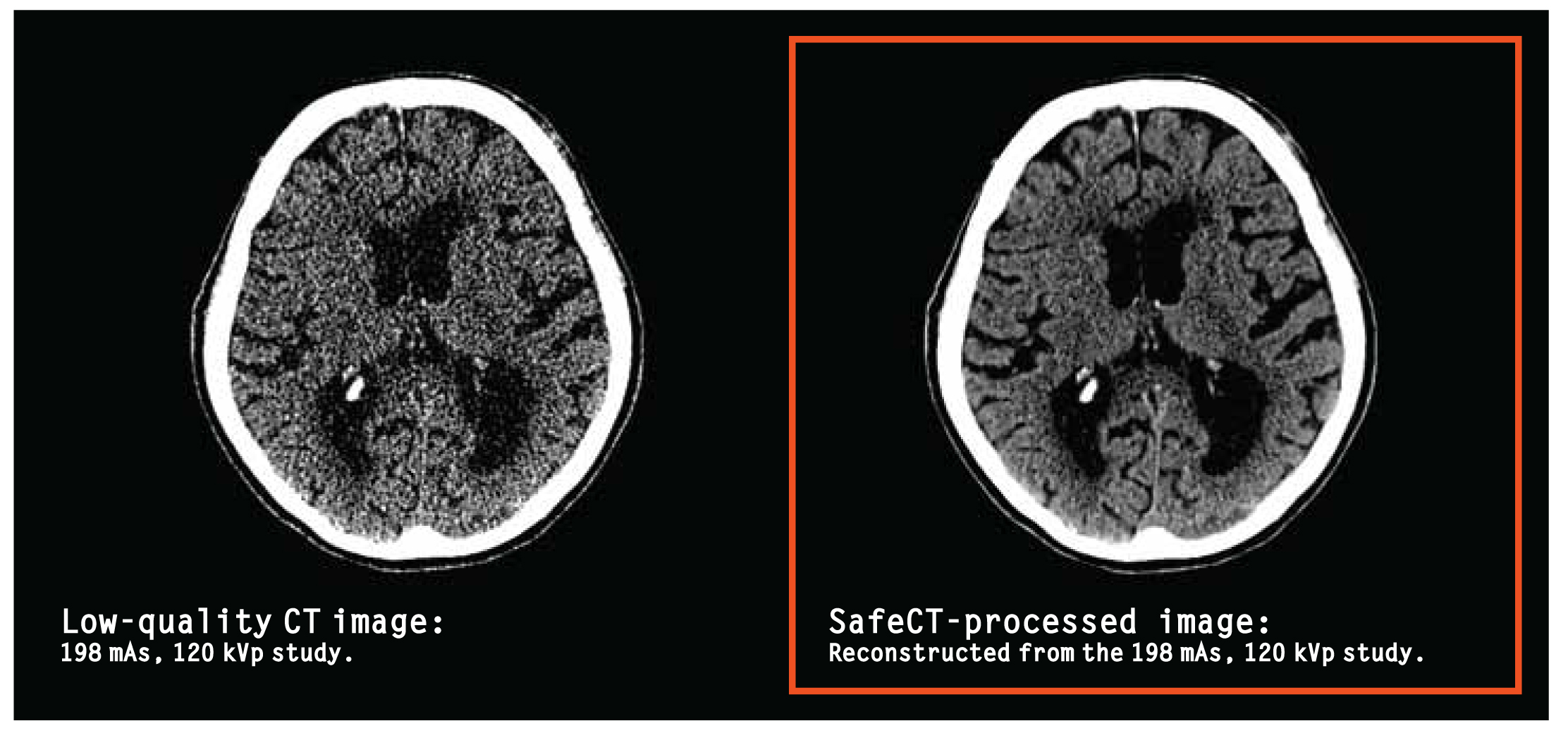 With SafeCT, you can inform your referring physicians and your patients that your scans can be acquired at safe doses, yet deliver high-quality images. In fact, in some markets, clinics and hospitals are already taking this message to the airwaves in broadcast commercials!
How SafeCT Works:
• Noisy images are automatically sent from the CT scanner to SafeCT, which then processes and transfers them to the PACS
• SafeCT's iterative image enhancement ensures that high-quality diagnostic images are sent to the PACS
• SafeCT works on all 4-slice and higher CT scanner models from GE, Siemens, Toshiba and Philips, eliminating the need to replace them with newer and more expensive ones
• It installs quickly and is easy to integrate into your CT department network
• It costs significantly less than OEM solutions
• Did we mention what it can do for patient stress about radiation levels?
Still skeptical?
SafeCT has been tested and put to routine clinical use in more than 30,000 studies at well-respected facilities like I.H.S., the Mayo Clinic, Mass General, Hackensack Radiology and the University of Pittsburgh.