The 98th RSNA Annual meeting is the largest medical meeting in the U.S., with 58,000 expected to attend. With that many radiologist, medical physicists and medical professionals in one place, advance planning will be your key to success—whether it's finding the perfect equipment for your facility, or landing reservations at the hottest restaurants in town!
Attendees will be able to attend scientific presentations, refresher courses, educational and technical exhibitions and information in 16 radiology subspecialties. There will also be 600 different companies exhibiting their wares in nearly 450,000 sq. ft. of exhibit space in three separate exhibit halls! So how do you know which booths to hit, which presentations to attend and which restaurants to target?
The Insi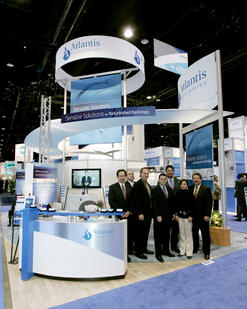 er's Checklist to a Successful RSNA Show
Atlantis Worldwide has been an exhibitor at the RSNA Show for 19 years and has mucho experience in planning and being prepared for the show. Here's a checklist our experts have developed to help you maximize your experience at RSNA.
Register! Don't delay.

Make hotel and transportation reservations. The event is over Thanksgiving weekend, which makes it über important to firm up these details early.

Check out the RSNA website for a list of all courses and exhibitors.

Make a list of which classes and sessions you must attend. Include times and room locations.

Identify which exhibitors you have to see. Make a list of times, locations and booth numbers.

Make a list of additional exhibitors you'd like to see, if time allows. Again, list times and booth numbers.

Make a list of new products you must see. List booth numbers so you can make appointments, if necessary.

Organize your list according to locations—since there are three buildings, you don't want to be dashing back and forth.

Download the RSNA phone app at http://www.rsna.org/mobileconnect/ You'll find meeting programs, publications and social media opportunities.

Wear comfortable shoes. You will be standing in lines and walking miles at the show.

Make dinner reservations well in advance, especially for groups of four or more.
Don't Miss Atlantis Worldwide Booth 4032 in the South Building
Atlantis is proud to introduce SafeCT, which enhances image quality of low-dose scans acquired on CT scanners 4 slice and up. We can also help you save money on your next imaging project with our used and refurbished medical imaging equipment. You can set up an appointment or just stop by and meet our team!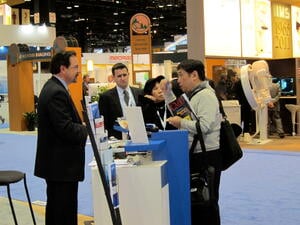 Atlantis Worldwide's Chicago Restaurant Recommendations

Keefer's: http://www.keefersrestaurant.com/index.html
Zed 451: http://www.zed451.com/
Erie Café: http://www.eriecafe.com/
Gibson's: http://www.gibsonssteakhouse.com/
Fogo de Chao: http://www.fogodechao.com/index.php?id=162
India House: http://www.indiahousechicago.com/dtchotel.asp
Giordano's Pizza: http://www.giordanos.com/locations.html
Al's Beef: http://alsbeef.com/company/locations.asp
Shaw's Crab House: www.shawscrabhouse.com
Bistro 222: www.bistro222.com
A Great View, Shaken, Not Stirred
Known by locals as the "top of the cock", the Signature Lounge on the 95th Floor of the Hancock Building at 875 N. Michigan Ave. offers stunning views of downtown, Lake Michigan and up to 60 miles away. A cocktail at any time—they have 24 signature martinis—offers a visual treat. Sunset is exceptionally spectacular.
A Chicago "Secret"
A lot of Chicago locals don't even know about this: go to the Chicago Tribune Building on Michigan Avenue. Spend 10 minutes walking around the building. Pieces from 150 world famous architectural wonders are embedded in the wall of this Chicago landmark: the Pyramid of Giza, the Great Wall of China, The Alamo, the Taj Majal, Westminster Abbey, a moon rock from Apollo 15's mission and more.
Contact Atlantis at 800-533-3356 to set up an appointment or email us at info@atlantisworldwide.com
See you there!

Meet the author: Vikki Harmonay