Did you see the power of SafeCT technology for yourself? You know, SafeCT is the add-on system for all CT scanners (4-slice and up) that boosts your diagnostic image quality for any exposure parameters. Clients brought in a low-dose study, and we processed it with SafeCT. They were able to see the amazing results right on the spot! SafeCT processes low-dose, noisy CT images into high-quality images quickly and easily.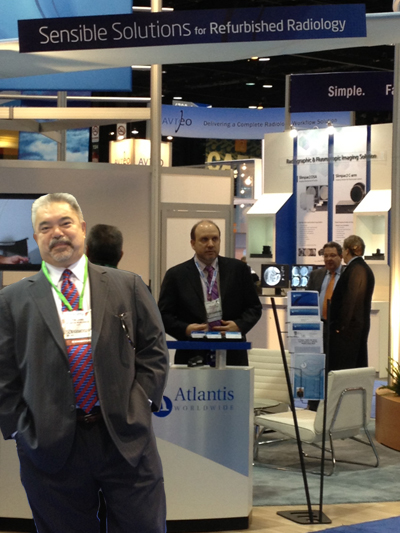 If you want to see for yourself, you can upload a sample study—scanned with the exposure parameters of your choice—conforming to the criteria below:
Contiguous-volume brain, chest or abdomen/pelvis scan
Proper patient anonymization
DICOM format
Acquired and reconstructed with the following specifications:
Uniform < 2.0mm slice thickness
Slice spacing < slice thickness
Study size: single series, < 500 slices
Soft tissue reconstruction filter
Two SafeCT Presentations at the RSNA—This is what you missed:
Results from a prospective clinical study at Massachusetts General Hospital to assess image-based iterative reconstruction for abdominal CT acquired at three radiation dose levels. The purpose of the study was to compare quality and detailed lesion detection for abdominal CT examinations acquired at three different dose levels (200,100 & 50 mAs) and reconstructed with image based iterative reconstruction (SafeCT).
University of Pittsburgh Medical Center conducted a study on reconstruction approaches for improving low-dose CT images. The purpose of the study was to compare the diagnostic quality of low-dose CT exams post-processed with two different noise reduction algorithms (ASiR & SafeCT).
The low-down on What SafeCT Can Do for You…
This incredible universal CT iterative image reconstruction add-on system fits all CT scanners from all vendors, including GE, Siemens, Toshiba, Philips and more. (4-slice and up). It has FDA clearance—so you can take immediate advantage of the proprietary GIRR-3D (Generic Iterative Retrospective Reconstruction in 3D) technnology.
• SafeCT delivers high-quality diagnostic images for any exposure parameters
• There's no change to your clinical workflow—your image quality is improved automatically!
• It is more affordable than you think—you don't have to replace or upgrade your current CT scanner for this.