How to be compliant with all upcoming standards without replacing your CT
The National Electrical Manufacturers Association's Medical Imaging & Technology Alliance (MITA) has published XR 29 Standard Attributes on Computed Tomography (CT) Equipment Related to Dose Optimization and Management. XR 29, also known as MITA Smart Dose, includes four key features of CT equipment that enable optimization or management of radiation dose delivery while also providing high quality medical images.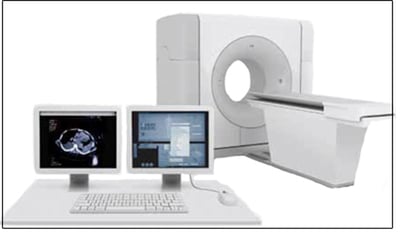 Several attributes of CT equipment help physicians and technologists optimize and manage dose. The MITA Smart Dose standard bundles four of these important features to ensure that compliant equipment produces high-quality diagnostic images while supporting patient safety.
Atlantis Worldwide can help you meet the MITA XR 29 and new "Smart Dose" standards in a straightforward and economical manner. Our SafeCT Iterative Reconstruction Dose Reduction product combined with our Scannerside dose monitoring and tracking software can ensure your compliance with ALL upcoming standards without replacing your current CT Scanners.
FIRST- With respect to MITA XR 29 and the new "Smart Dose" standards and how SafeCT for dose reduction and Scannerside for dose tracking can make you compliant with ALL upcoming standards without having to replace your current CT scanners, let me offer the following point-by-point.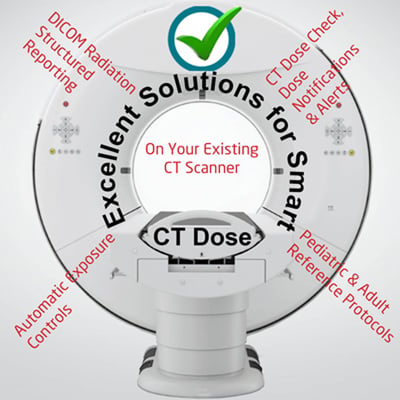 DICOM Radiation Structured Reporting.
You will need to consider a CT dose tracking, monitoring and recording solution to become compliant in this area. We offer an excellent solution for CT dose tracking called Scannerside. Scannerside, or any dose tracking solution like it, is instrumental in implementing a comprehensive dose management solution. The MITA standard will affect those providers that have older systems that are incapable of creating a standardized post-exam dose report that can be easily incorporated into the patient record. Many providers today are manually inputting this data. It is cumbersome, is prone to errors and expensive. Note that the Joint Commission mandates that go into effect in July 2014 include this same requirement as well. Scannerside can pull this dose information from any CT through an Optical Character Recognition API they use within their system. To bring you into MITA XR 29 compliance; an automated CT dose tracking solution such as Scannerside will do the job.
CT Dose Check, dose notifications and alerts.
While the SafeCT IR dose reduction solution will not by itself provide you with notifications and alerts, it will ensure that no patient will be over exposed, reducing and eliminating concerns regarding patient over radiation. Remember, when we install SafeCT we will look at all of your manually reduced protocols and optimize them, decreasing dose by 50% or greater on all exams. Low-dose CT imaging becomes automated and standardized for all protocols across your delivery network with SafeCT. You can see the benefit that SafeCT provides compared to manually reducing your dose at each facility. An excellent way for you to ensure that you are compliant is to incorporate an IR dose reduction solution like SafeCT combined with a dose tracking solution like Scannerside. Scannerside alerts you to exams that are using too much radiation by machine, by protocol, by technologist or by procedure. These dose reports are available to you with a mouse click and can be compared against an on-line CT database that includes well over 400,000 CT exams. Comprehensive dose reports can also be downloaded into your monthly reports by each facility enabling you to easily manage the information across your network. So, while SafeCT is instrumental for automating and standardizing your low-dose CT protocols, ensuring that you are always scanning with the lowest possible dose, what I believe the MITA XR 29 and Joint Commission are requiring is a solution that will notify and alert the CT technologists to situations where excessive radiation is being used. Having both a CT dose tracking solution like Scannerside and an IR dose reduction solution like SafeCT is the best solution for this issue.
Automatic Exposure Controls.
This point likely refers to product features that most CTs today, and even many "older" CTs provide. These are the product features such as "Smart Dose or Care Dose" that automatically adjust mAs during an exam. Another example is automated kVp reduction and products that "turn off" the beam when a radiologist has his hand in the field while performing a biopsy. Here again, the Joint Commission is addressing the topic of protocol optimization. SafeCT will absolutely help solve this issue, as would any OEM Iterative Reconstruction product like SafeCT. When we install SafeCT we incorporate the manufacturers features such as automated mAs and kVp reduction when we build the new automated and standardized low-dose SafeCT protocols. Being able to add SafeCT on any of your systems without Iterative Reconstruction eliminates the need for site-by-site manual dose reduction. Iterative Reconstruction is the single biggest step a provider can take to reduce patient dose. The problem is that OEM's only provide the IR solution on their newest CT's. SafeCT will enable you to automate and standardize all of your low-dose protocols across your network on you're your existing CTs four slice and over. While you may have one new CT with IR capabilities, you really should be able to offer IR low-dose capabilities on all of the CT's within your network. SafeCT will greatly assist you in complying with this standard.
Pediatric and Adult Reference Protocols.
While any new CT can easily meet this requirement with an OEM IR solution, what about your "older" CT scanners? The only way you could meet this requirement is to do it manually. This requires that for every CT scanner you own without an IR solution that you manually create a low-dose protocol for every acquisition you perform on your CT's. After you have defined all of the protocols you perform, now you have to create a protocol for every patient size, from pediatric to obese patients. This is a time consuming, frustrating process that still may result in a patient being re-scanned. Even if you are successful, you will only achieve an average dose reduction of about 30%. SafeCT will bring you into compliance on these points and allow you to reduce patient dose by an average of 50% while delivering excellent image quality. Implementing SafeCT will ensure that you have dedicated pediatric and adult protocols on each of your legacy CT's. All low-dose protocols will be automated and standardized across your delivery network. We work with your team to achieve the dose reduction levels your radiologists and technologists are comfortable with. We will set up protocols that exceed the published procedural standards that have been developed by the American College of Radiology.
Ideally, to create and implement a comprehensive CT dose management program, you need a CT dose tracking monitoring and recording solution such as Scannerside and you need to be able to add an IR solution to your CT scanners as well to achieve automated and standardized low-dose CT scanning protocols. If you do not have an IR solution, you are tasked with manually reducing your dose on all protocols. Manual reduction yields minimal results.
When you consider the CT mandates and requirements being put forth by NEMA, the ACR, the Joint Commission, and the ACA, adding dose tracking, monitoring and recording is something that every hospital can achieve. Today, most facilities are manually recording the data they feel they need to meet current requirements. Going forward in 2014 and beyond, you are going to need to track more data. You need to track and record how much radiation is coming off the CT, which procedures are using the highest dose, exam frequency, how much dose the patient is receiving on each exam and a solution for easily and automatically getting that data into the EMR/EHR to meet meaningful use requirements and more. You need to be able to quickly access this data and drop it into monthly reports so that you can manage your department.
Mandating that providers must add an IR solution to achieve automated and standardized low-dose CT capabilities and protocols is something the governing bodies cannot do. The governing bodies understand that Iterative Reconstruction is available, and they know that "older" systems are incompatible with the OEM's "new" IR technology. They can't mandate that you purchase a new CT with an IR solution; but they are trying to influence your buying behavior through their mandates and requirements. The OEM's are in the business of replacing your CT, NOT in providing you a cost effective solution that will allow you to extend the life of the system or reduce operating costs or increase patient safety thus improving quality and reducing risk. This is what makes SafeCT such a truly unique product. It is the only vendor neutral IR solution on the market today. Together, SafeCT and Scannerside are excellent solutions for solving your CT dose management issues.
PURCHASING NEW SCANNERS GOING FORWARD:
"Over time" you will replace all of your existing CTs and if you purchase new ones they will have built-in IR solutions for low-dose scanning. The questions become how many years will it be before you can replace all of your CTs, and when you do, will you only purchase new CT's? Will you consider refurbished CT systems? Would your facility prefer to compete in the CT market in a higher or a lower cost position given the future of CT reimbursement? Are you concerned about the reality of a blended payment environment? How will this affect the returns on the departmental investments like capital equipment that you make?
At the end of 2013, Aunt Minnie reported that access to capital in the radiology department is at an all time low. Radiology is no longer a profit center, it is a cost center. Unless your CT is plagued with downtime and increased service costs due to the fact that it is simply old, due to budget constraints, you are not likely going to replace most of your CTs any time soon. The technology "slice wars" are over, and unless you are trying to open new service lines like cardiology, still without consistent reimbursement, your current CT is likely more than adequate for the day-to-day imaging you require. You do not have to replace your CTs to meet and exceed the current requirements. If you are replacing your CTs, would it not make sense at this time to at least consider a refurbished solution with SafeCT?
Due to the new lung-screening mandate established by the ACA, adding an IR low-dose solution to your CT enables you to compete in a new revenue growth area in CT, low-dose lung screening without having to replace the CT. Because of the ACA mandate, all at risk patients are entitled to one low-dose CT lung screening per year to be paid for by any ACA qualified insurance plan. CMS will be required to pay for Medicare and Medicaid patients. If your current CTs have IR low-dose capability, you should be developing a screening program at each of your facilities. If they do not have an IR solution, you can easily add SafeCT to enable low-dose capabilities without having to replace your current CT. Establishing a low-dose lung-screening program will provide you with the opportunity to better align with the pulmonologists and oncologists in your delivery network, a key component going forward with the ACA. As we move toward a bundled payment system, physician alignment becomes even more key.
When you decide to replace your CTs you could elect to keep the SafeCT license and install it on the replacement CT if the scanner does not have an OEM IR solution. For instance, if you have a 16 row CT in a facility now, and in a couple years you look to replace it with a 64 row, do you really need to purchase a "new" 64-row scanner? CMS is not going to reimburse you more because you have a new system. Going forward, it is about competing at the lowest cost possible while still providing high quality service with minimized patient risk.
I hope that we have demonstrated that there are cost effective solutions available for the CT dose related issues all providers currently face. You do not have to replace your existing CT scanners to accomplish your goals. We look forward to working with you for the purpose of offering SafeCT and Scannerside to help you establish and implement a comprehensive low-dose CT strategy across your delivery network. Please contact me at your convenience to discuss your CT dose management plans and how we can help you reach your goals.