Looking for a new C-Arm? There are so many different manufacturers offering a wide variety of features and functionality—how do you know which one is right for you?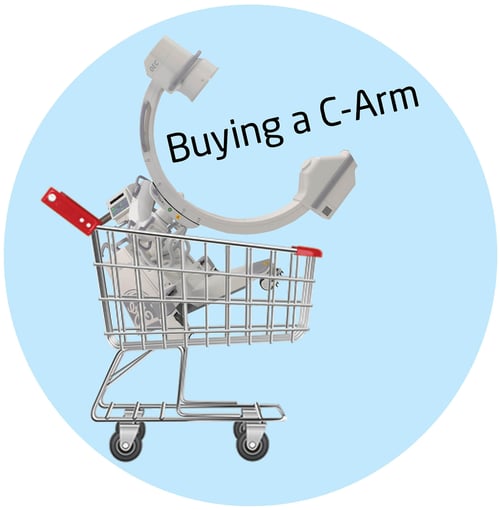 The experts at Atlantis Worldwide put together this list of considerations to help you choose the C-Arm that delivers the ideal performance for your needs.
Talk to your surgeons and physicians. What are they looking for from a clinical perspective? Their input will be incredibly valuable.

What is your budget? You need to determine how much you can spend. This will help determine if you're looking at new or refurbished medical imaging devices.

What kind of image quality do you need? Newer machines with flat panel image detectors provide higher quality images. However, you want to make sure you protect everyone from radiation exposure while you're getting those images. Most C-Arms offer low-dose modes, so you'll use the least amount of radiation to get the best possible images. A safe option is choosing C-arms with a pulsed-image feature rather than one with only continuous live imaging.

What will you use your C-Arm for? You'll want to choose the right C-Arm for your procedural priorities.

Do you have sufficient power? If your C-Arm is going into an OR, you'll want to make sure it has sufficient power available, since many different devices are used, like a blanker warmer, surgical microscope, C-Arm, etc.

What kind of maintenance does the C-Arm require? You'll need to assign a team that will be responsible for the machine, weekly, testing, training and radiation safety education and general upkeep.

What's your backup plan? What happens if your C-Arm goes down? Sometimes it makes sense to buy multiple units, so there won't be an issue if one C-Arm goes down.
C-Arms to Consider
GE Healthcare OEC 9900 C-Arm is designed for fast and easy positioning. Articulated ergonomically monitors gives you an excellent view of the screens. Monitor progress and instantly make any corrections. Ideal dose control.
Superb clinical image quality, no need for re-takes. You can do longer procedures since the optimal battery buffer allowing lengthier on-times. The patient will be more comfortable for pain management and vascular with the deep shaped "C" arc.
The OrthoScan Mobile DI is the first mini C-arm designed specifically for clinical and off-site imaging needs. As of publication, it's also the only one. It delivers industry-leading digital X-ray and fluoroscopy, portability and ease of movement. It's designed to improve workflow and introduces additional procedures with established CPT codes for reimbursement.
You get exceptional diagnostic imagery with a 12" X 9.5" live image that delivers vivid clarity and fine details of anatomy. The 24" monitor lets you see more on-screen content with a resolution of 1920 X 1200 in bright detail for an immersive imaging experience. You get an advanced touchscreen interface called OrthoTouch.
Siemens Medical Systems Cios Alpha is a high-definition 2D mobile C-arm. It leverages Retina technology seen in high-end smartphones to deliver optimal image quality. It's intelligent power management system has an energy storage until and active cooling to maintain power and prevent overheating. The Combined Applications to Reduce Exposure technologies determine the proper dose needed for each patient. It has an anti-microbial surface and washable mouse—great for easy cleaning and disinfection.
Talk to An Expert
There are lots more C-arm options out there, as well as a lot of used and refurbished models that can deliver the performance you want with the warranties you need. Talk to the experts at Atlantis Worldwide. We've been helping healthcare facilities, veterinary clinics and hospitals with their medical imaging equipment needs for more than 29 years.
Some blogs you may have missed:
About the author: Vikki Harmonay