GE Healthcare is known for creating new advancements in interventional radiology. But it's also known for product names that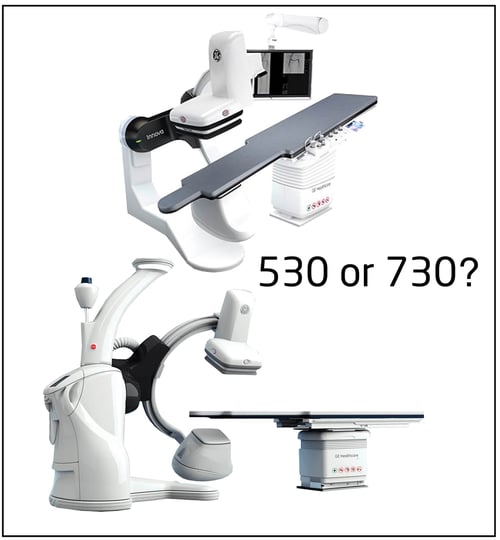 aren't intuitive and easy to understand. Case in point: IGS labs products like the GE Innova IGS 530 and GE Discovery IGS 730. How are you supposed to know the difference between the two products?
Let's start with what's the same.
Both the 530 and the 730 operate on GE's IGS (Image Guided System) platform, so they both have higher dose efficiency than earlier GE interventional models. They also have better patient dose tracking capabilities.
Both the 530 and 730 models are floor mounted, single-plane, cardiovascular systems that use GE's 31cm x 31cm Revolution digital detector. Both systems also use an 8-way horizontal float table that's capable of 20° Trendelenburg tilt and 12° reverse. The table handles a 450 lb. weight capacity, as well.
The 530 and 730 share the same acquisition to 3D processing times: 25 seconds for

256³ and 50 seconds for 512³.

Both models offer quite a few software features, including:

Innova TrackVision for real-time guidance for needle intervention procedures
Innova Chase for unsubtracted bolus chase technique
Innova 3D for 3D imaging acquisition from rotational angiography
Innova Spin for rotational acquisition using GE's proprietary DRM image processing algorithm
Innova breeze for subtracted bolus chase technique
Here's what's different:
Room Size Requirements: The 530 requires 16' X 19' (304 sq. ft.) whereas the 730 needs 22' x 17' (374 sq. ft.) to install.
C-Arm Mobility: The gantry of the Innova IGS 530 operates on a traditional, floor-mounted positioner. However, the gantry of the Discovery IGS 730 is like a giant mobile C-Arm. It's a more powerful, bigger and fully digital version of the OEC 9900 that's driven remotely from table-side controls to any pre-set laser-guided locations. This flexibility delivers numerous advantages when it comes to workflow and accommodating preferences of individual techs and surgeons.
If you have conventional surgical needs, the 530 delivers the acquisition speeds, dose efficiency and software features of the 730 at a much more affordable price. But, if you need versatility in the OR, the 730's mobile gantry delivers above and beyond any interventional system that has a fixed positioner.
Talk To An Expert
If you're in the market for medical imaging equipment, remember—oftentimes you can find used and certified refurbished equipment on the secondary market. These deliver the same performance you want and need but at much lower price points. You still get impressive warranties. To find out more, contact Atlantis Worldwide Today!
Some blogs you may have missed:
About the author: Vikki Harmonay