Looking for high quality, dependable, fully-digital C-arm for your practice, clinic, hospital, urgent care or veterinary clinic?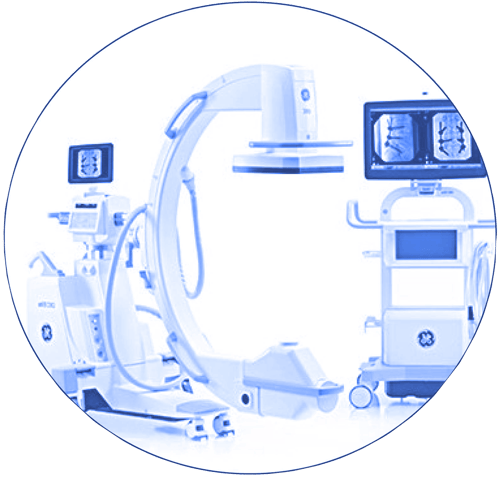 Want to get the performance you want AND save money? Two of the best digital C-arms currently available on the secondary market are the Siemens Cios Alpha and OEC Elite CFD. The experts at Atlantis Worldwide put together this list of comparisons so it's easier for you to make the right choice.
Who's Got The Power?
Does your facility specialize in more demanding work like run offs, lateral abdominals and bariatrics? If so, the Cios Alpha has a 25kW generator and is much more powerful than the Elite CFD, which produces only 15kW. If your facility doesn't need the extra power, the standard Elite CFD is a solid choice.
What You See
The Elite CFD comes with a larger-sized field of view, measuring 31cm X 31cm. If you don't need a larger detector, the Elite CFD is also available with a 21cm X 21cm detector option. The Cios Alpha field of view measures 30cm X 30cm.
Take Control
When it comes to control accessibility, the Cios Alpha and Elite CFD both have the goods. They have full control features on both the C-arm and the workstation. There's also a "hot spot" reference monitor on the C-arm as well as an integrated laser aimer for precision positioning.
Which Monitor Is Better?
The monitor configurations between the Cios Alpha and the Elite CFD are quite different. The Elite CFD has a single 27" monitor on an articulating arm that extends 27" with a full range of motion, while the CIOS Alpha has two 19" monitors that feature some rotation flexibility. If you need flexibility in positioning the monitor where you need it, the Elite CFD is the best choice. If monitor area is your priority, choose the Cios Alpha.
Overall Footprint
Both of these C-arms have similar footprints.
Elite CFD: C-arm 80.25 x 33.2 x 70.75, Workstation- 25.8 x 34.1 x 67.5

Cios Alpha: C-arm- 77.6 x 32.7 x 65, Workstation- 27.6 x 29.1 x 70.7
However, there's a significant difference in their weight, with the Cios Alpha total weight being 1,304-1,321 lbs. and the Elite CFD weighing 1,038-1,088 lbs. That 230 extra pounds may factor in with structural concerns or maneuverability.
Detector Technology
Both of these systems offer leading edge detector technology and are very comparable. They both feature complimentary metal-oxide semiconductor (CMOS) detectors.
Maintenance & Repair
The Cios Alpha loses out to the Elite CFD. OEC C-arm service is easier to find (third party) and costs less. It's also subject to fewer proprietary restrictions than service for a Siemens C-arm.
How Easily Can You Find One?
When it comes to availability, the Cios Alpha is more available on the secondary market than the Elite CFD. The Cios Alpha has been in production for six years versus three years for the Elite CFD. If you have time bound purchasing goals, the Cios Alpha will be easier to procure.
Talk To An Expert
There are so many considerations when choosing a fully digital C-arm. Talk to the experts at Atlantis Worldwide. They are happy to help you determine which will provide the best performance, price and warranty for your needs. We've been helping people find ideal used and refurbished medical imaging equipment for more than 29 years and would love to help you.
Some blogs you may have missed:
About the author: Vikki Harmonay