CT Scanners have been around for a long time. In fact, in 1975 GE Electric (now GE Healthcare) was the leader in diagnostic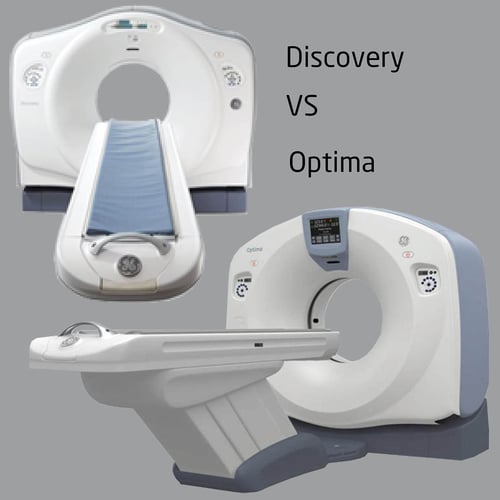 imaging equipment used by physicians in diagnosis and treatment. The company accomplished the development of a computerized tomography (CT) scanner that year, which aimed to reduce the amount of invasive exploratory surgery. Since then GE Healthcare has continued to introduce various CT models including Hispeed, Discovery, Optima, Lightspeed and Brightspeed.
At Atlantis Worldwide, many of our clients are looking for high-end CT scanners with great capabilities. To that end, let's take a look at the Optima 660 and Discovery 750 from GE and see which one might be the best fit for you.
What Do They Have In Common?
Frankly, quite a lot!
They both have a compact footprint and modular design
Both are available in 64-slice and 128-slice. However, the Optima 660 is a 32-slice that's scalable to a 128-slice.
They both produce high resolution
Both deliver low dose imaging
Both have a rotation speed of 0.35s
Both have significant capabilities in acquiring a scanned image
Both offer an option of the Overlapped Recon Axial which enables 128-slices per rotation on a 64-slice CT Scanner in axial scanning modes
Both offer an optional Volume Helical Shuttle, a continuous bi-directional scan mode that extends the z-coverage of the CT Scanner. It also provides a reliable temporal sampling so you can perform dynamic studies of up to 500-slices.
So, What's The Difference?
Again, quite a lot!
The Discovery 750 is no longer manufactured but it IS available on the pre-owned market. And it's easy to find spare parts.
The Optima 660, introduced in 2011, is still being manufactured.
The Optima 660 can be used for various applications and excels at all of them, making it ideal for hospitals that need definition, speed and good results in their ERs.
The Discovery 750 with a dual energy gemstone detector offers incredibly high definition imaging with a low dose capability—delivering terrific low contrast capabilities. It's the industry leader in cardiac studies and has one of the best spatial resolutions on the pre-owned market. The scanner is specialized in Cardiac CTA and performs optional applications like Neuro perfusion.
The Optima 660 also offers low-dose imaging by using ASiR reconstruction technology, which provides significant benefits. It reduces mA when obtaining diagnostic images, which decreases the required X-ray dose.
The X-ray tubes of the Optima 660 last longer due to the ASiR, as there is less heat going through the CT Scanner.
While both systems have the same rotate-rotate slip ring geometry, the systems have different dimensions and weight. The Discovery's gantry is 1850kg and the Optima's is 1810kg.
While both systems have oil/air cooling, the Discovery's tube has higher heat storage and dissipation rate. That means it can take more patients throughout the day without the need of cooling the tube down.
Optima 660 has a very innovative feature that the Discovery doesn't: OptiDose. It delivers dose reduction at the source and includes SmartTrack dynamic collimation to hold the X-ray beam tightly focused on the active detector cells. It also offers ECG dose modulation, 3D mA automatic modulation and X-ray filtration for small to large patients.
Finally, the Optima 660 beats the Discovery CT750 in energy efficiency. It also has an environmental design that makes refurbishment, as well as end-of-life recycling much easier.
Still not sure which CT Scanner is right for your practice, clinic, hospital or healthcare facility? Talk to the experts at Atlantis Worldwide. Both offer a similar market value and price, but one is surely a better fit for you.
Some blogs you may have missed:
Meet the author: Vikki Harmonay