Finally. There's now a mini C-arm designed and approved for use with pediatric patients. And it's just one of the new innovative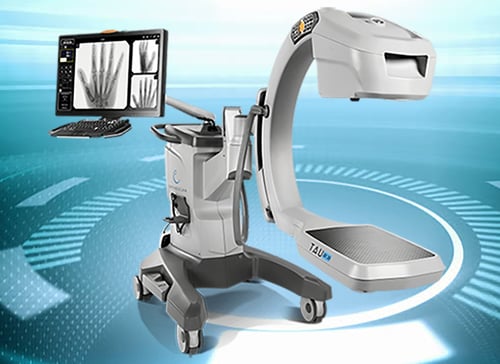 C-Arms created by Orthoscan, Inc., the global leader in mini C-arm imagery.
There are three new mini C-Arms in what's called the TAU family of C-Arms by Orthoscan: TAU 1512, TAU 1515 and TQU 2020. Let's take a closer look at each.
TAU 1512 provides exceptional diagnostic imagery with a 12" X 9.5" live image that delivers fine details of anatomy with vivid clarity. With exclusive dose-saving featured, improved articulation and flat bottom C-Arm design, it's packaged in a small, lightweight form. It's considered the next generation of mini C-Arms. Powered by Orthotouch 2.0, an advanced touchscreen interface, it will fit any budget.
TAU 1515 has a larger detector and live image so users have the freedom to view critical anatomy the way it needs to be seen. You get intelligent dose reduction without sacrificing image quality. In addition, a 160 degree orbital rotation lets you get preferred views without stressing anatomy. You get 12" X 12" live image for fine details and exceptional clarity. It's also the first mini C-arm approved for use with pediatric patients.
TAU 2020 has industry leading features like the largest screen, field-of-view and the largest high-resolution diagnostic touchscreen monitor available on a mini C-arm. You also get significant dose savings, pediatric software, pulsed fluoroscopy and optimized dose filtration.
It's always exciting to learn about new technology being introduced in the medical imaging industry. But is it for you?
Do You Need The Latest, Greatest Technology?
As nice as it would be to be able to have the latest technology for your clinic, practice, hospital or healthcare facility, the reality is oftentimes a refurbished or used C-Arm can provide exactly what you (and your budget) need. To explore all of your options, be sure to talk to one of the experts at Atlantis Worldwide. With more than 25 years of experience in the used and refurbished medical imaging equipment industry, we have the answers you're looking for.
Some blogs you may have missed:
About the author: Vikki Harmonay