Once in the not-so-distant past all spine surgeries were performed in hospitals—with patients immobilized for several days before going home.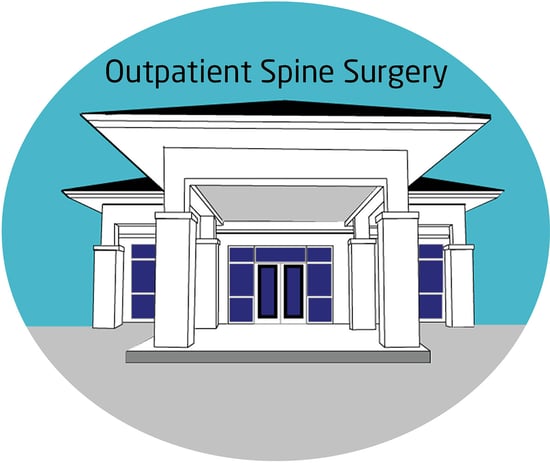 Fast forward to 2022 where there's a growing movement for most spine surgeries to be performed in outpatient environments. Why? Because there have been significant advances in surgical techniques, anesthesia treatments and postoperative rehabilitation.
These new procedures result in less blood loss and lower risks for complications, making outpatient surgery a great solution. And since surgeons can now send patients home within 24 hours of an operation, the procedures cost less, making insurance companies happier. It's no wonder it's a hot topic in ambulatory surgical center circles now, since it's a win-win for patients, surgeons and payers.
Nearly two-thirds of spine surgeries can be performed in ASCs with appropriate staffs, comprised mainly of single and two-level ACDFs. The main risks of ACDF procedures are dysphagia, or the loss of an airway being overly narcotized and the patient being unable to breathe properly. This is exacerbated by post-operative neck swelling during and after the procedure and can happen within 4-6 hours of the operation. By performing the procedures early in the day, most patients can go home after several hours of careful observation. The biggest danger of lumbar fusions is the length of surgery, the amount of anesthesia administered and the amount of blood loss. However, current studies show that single- or two-level fusion patients can be discharged safely within 23 hours, provided appropriate pain control is administered.
It's important that patients are assessed appropriately for outpatient spine surgery. They should be assessed for swallowing, sleep apnea, airways and other factors that can determine if a patient can be treated as an outpatient. In addition, it's important to analyze a patient's height, weight, prior surgeries, age, smoking history, cormorbidities and other characteristics.
In addition, a surgical team must be confident in transitioning from traditional gas inhalation anesthetics to IV anesthetics, which allow patients to wake up without feeling groggy. This will quicken recoveries so the patient can be discharged. In addition, opioids are being replaced with alternative medicines like antibiotics, IV acetaminophen gabapentin, steroids and pregabalin, which can allow patients to participate in their rehabilitation sooner.
Patients also need to be educated about the procedure, which delivers a smaller incision, less blood loss, less time under anesthesia, less post op pain and less time in a healthcare facility. In addition, co-pays for an ASC procedure are significantly less than for inpatient surgery.
Talk To An Expert
Is your practice moving toward outpatient spine surgery? Do you need the right medical imaging equipment for your facility? If so, talk to the experts at Atlantis Worldwide. Oftentimes a refurbished or used medical imaging system can deliver the performance you need, the service warranties you want and at a price that's kinder to your bottom line.
Some blogs you may have missed:
About the author: Vikki Harmonay