The best articles of 2014 - Atlantis has compiled the most popular blogs of 2014. In case you missed them here they are!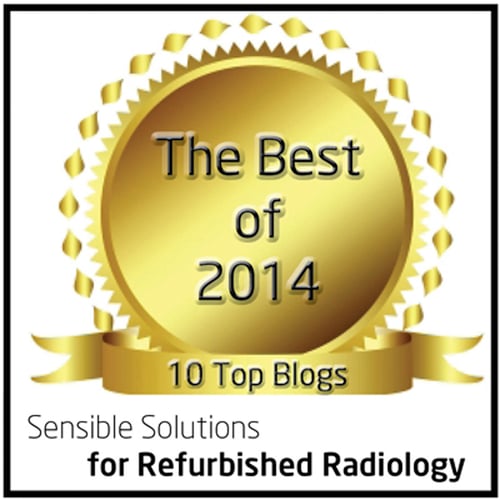 10 Top Favorites:
Siemens AG just announced that it will begin managing its health care divisions separately from other companies under the Siemens family umbrella. So what exactly does that mean?
Siemens CTThe German company released a statement saying..
Maybe it's time for a new MRI for your department, imaging center or practice. Or you think it might be a good idea to look into buying a pre-owned MRI. Well, before you start saying things like "1.5T" or "high field open" or even "how much," there are five important things to consider and they all lead to one single fact..
When we get requests for digital mammography systems at Atlantis Worldwide, our customers generally ask for Hologic (Selenia or Selenia Dimensions) or GE (Senographe 2000D, Senographe DS or Essential). We find that many of our customers have the same questions, goals and concerns, so we've created this list of pros and cons that can help YOU better understand your options and needs.
Keep on track with OEC C-Arm prices this year! Atlantis Worldwide has listed this years prices in a new info-graphic for your reference. For over 20 years Atlantis has been a leader in the refurbished and used C-Arm market. We are here to help you with C-Arm questions and identify the best solution at the best price.
There are so many things to consider before you buy an MRI. Which one will fit the needs of your client base? Will you get the referrals you need? Will insurance payment standards make it worthwhile?
When we talk to people who are looking for an MRI for their hospital, clinic or practice, they always want more information about MRI coils—what they actually do, what types are available and which ones are right for the job. It's actually one of the most important considerations when buying a new or pre-owned MRI.
When it comes to breast health, everyone understands the importance of mammograms. But as technology changes, it's also important to understand the various technologies available for mammography.
By far, the LightSpeed is still dominant over the BrightSpeed in systems installed. Part of the reason for this is that it took some time for the BrightSpeed to catch on, particularly in the USA. Initially, it was seen as the 'budget version' of the LightSpeed, and typically had fewer standard options.
Everyone knows that Siemens ARCADIS C-Arms deliver high performance and quality and can be a great investment for your practice, hospital or clinic. However, with three different ARCADIS C-arms to choose from, how do you know which one is right for you?
Qualis Health Award Project presented by Hal J. Mason RT, R, CT, CT Technologist at Yakima Memorial Hospital, Valley Imaging Outpatient Imaging Center in Yakima, Washington. PROJECT TITLE: Computerized Tomography Radiation Dose Reduction Project.

Stay tuned for 2015 Blogs! If you would like us to cover a topic -please feel free to email us the subject at marketing@atlantisworldwide.com
Meet the author: Vikki Harmonay