If you need a new C-Arm for your facility or practice, buying isn't the only solution. More and more practices are choosing to rent an imaging system. But how do you know what's right for you?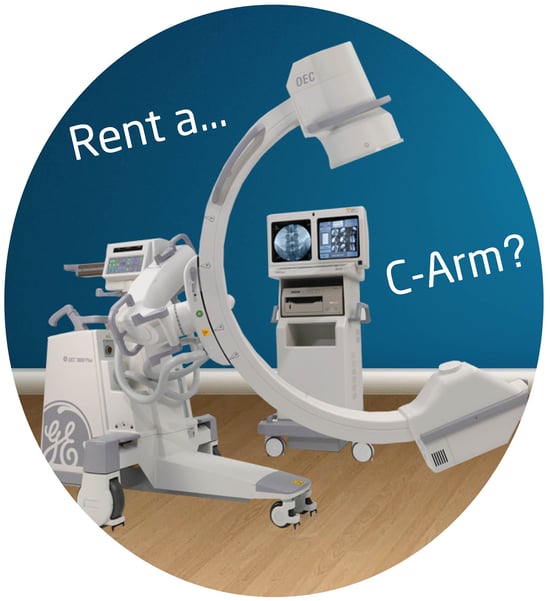 The experts at Atlantic Worldwide put together this information that should help you understand your options and get one step closer to a decision.
The Facts…
Renting is designed to be a short-term solution versus a long-term one. It's a great way to "try before you buy." It's also a great solution for market research, educational labs, and start-ups unsure of their procedure schedule. One of the great things about renting is that you get comprehensive service coverage, which includes parts, labor and travel expenses. You also get the advantage of an in-session with an engineer who will review all the functions of the machines and answer any questions you may have.
Renting also enables you have access to a C-Arm without making a long-term financial commitment. This is especially helpful for new practices that are uncertain of the quantity of procedures that they will be able to perform as the facility first opens. It is also helpful for facilities that need to improve their credit.
Most rental options do include a buyout option at the end of your rental term. They normally count a portion of the rental expense toward the actual purchase of the equipment. This enables you to avoid making a long-term commitment to a C-Arm until you are certain that it is the right fit for your practice without forfeiting the entire rental payments that you make.
A determining factor could be the length of time you will be using the system. If you want to use it for 12 months or less, it makes sense to rent the C-Arm. If you know you'll have a long-term need for the system, then buying it outright might make more sense. With that said, renting the C-Arm does not preclude you from eventually buying the system so an argument can be made to rent the system even if you know you will be needing the unit for the long haul.
Talk to an Expert
Still not sure which way to go? Talk to one of our medical imaging experts at Atlantis Worldwide. We've been providing clients with ideal medical imaging solutions for more than 29 years and would love to help you.
Some blogs you may have missed:
About the author: Alex Silbergleit