A R/F Room stands for radiography/fluoroscopy. It is the grandfather of human imaging studies. The changes to this modality over time have been minimal and brings value to imaging departments and centers.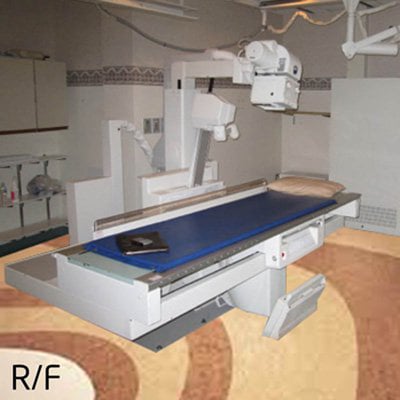 Fluoroscopy is the method that provides real-time X-Ray imaging that is especially useful for guiding a variety of diagnostic and interventional procedures. The ability of fluoroscopy to display motion is provided by a continuous series of images produced at a maximum rate of 25-30 complete images per second. This is similar to the way conventional television or video transmits images.
Besides acquiring static images on the X-ray (radiographic) side, the X-ray beam that is passed through the body is used with a video screen. The most common studies performed using Fluoroscopy involves using X-rays to take "live" images of the body. It is typically used to examine the parts of gastrointestinal tract such as the esophagus, stomach, small intestine and colon, Catheter insertion and manipulation (to direct the movement of a catheter through blood vessels, bile ducts or the urinary system). It is also used for placement of devices within the body, such as stents (to open narrowed or blocked blood vessels), angiograms (to visualize blood vessels and organs) and Orthopedic surgery (to guide joint replacements and treatment of fractures).
Classic fluoroscopy rooms include:
Image detection including image intensifier and TV camera
Bucky unit and table
Image display including LCD monitor and monitor support
Work spot including application and examination database
Ceiling suspension with X-ray tube assembly, control grip and collimator
Generator
Digital imaging including image processing and storage
Lead lining for R/F Room
Each state has different laws when it comes to lead lining your R/F room. Some times the types of procedures you will be performing will determine if you need a lining. If you angle the image intensifier emitting the beams on a wall instead of downward you may need a lead lining. Below are links for most states. Not all the states require shielding and some states do not provide specific information about shielding on their website.