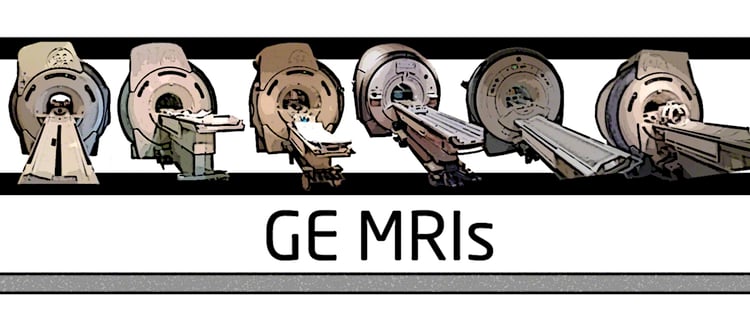 So, you know you want a 1.5T MRI for your hospital, clinic, practice or medical facility. And you prefer to get a GE that's used or has been refurbished. So how do you know which (of many) GE models is right for you? Let's take a closer look at what GE has to offer, from old to new.
GE 1.5T Horizon MRI
The Horizon is not just old. It's very old. Unfortunately, no one is really in the market for one of these anymore, but if you happen to have one, the secondary market is interested in your parts. If this is the 1.5T you have, it's time to upgrade to a newer model.
GE 1.5T LX MRI
The GE 1.5T LX uses 9x software and an older Octane computer system, and can only support up to 4 channels. It's equipped with HiSpeed or Echospeed gradients. However, it's still on the secondary market. You'll need to pay attention to which gradient cabinet has been installed, since it can house the newer ACGD or the older SGD.
GE 1.5T Excite II MRI
The Excite II has the same SCGD cabinets that were found in the LX Series, but can support 8-channel imaging, thanks to its newer Linux-based OS. If you don't need a newer system, this can do the job for much lower upfront costs.
GE 1.5T HD MRI
This was the first MRI to offer true HD imaging for GE. It also included a lot of software upgrades, as well as the new HFD gradient cabinet. It delivers expandability at a lower price point, and since you can upgrade an HD to an HDXT or even the 23x "Optima Edition software and gradients, it's a great deal.
GE 1.5T HDe MRI
This is GE's most compact system, but it's rare to find it in the U.S. It has a 30% smaller footprint and is an economical choice, but there's a trade-off. You get reduced channel capability and a lower slew rate.
GE 1.5T HDX MRI
This 16-channel system comes standard with 14x software and uses the CXK4 magnet. However, you can upgrade the electronics and the software to make it an HDXT. Pretty sweet, but the price point won't be much lower than the newer GE 1.5T HDXT.
GE 1.5T HDXT MRI
This is a higher end MR that comes with a CXK4 magnet and either 15x or 16x software. It's fairly easy to find on the secondary market and more affordable than the newer GE 1.5T Optima 450. Many of these systems actually started out as GE 1.5 HDX systems and were upgraded. That means if you buy a five-year-old HDXT, the magnet may be a few years older than that. Something to keep in mind.
GE 1.5T Optima 450 MRI
This system has a 60cm bore, comes with 23.0x software and had a traditional CXK4 magnet of the LX and EXCITE series.
GE 1.5T Optima 450W MRI
This was launched in 2010, so it's not easy to find on the secondary market yet. Ideal for neurovascular and cardiology studies, it has a redesigned magnet and is a wide bore offering, with a 70cm bore to accommodate larger patients or those who have claustrophobia. It has OpTix, an optical RF system that provides a crisp, clean image and an oh-so-effiicient zero boil-off magnet. This system is the priciest of the bunch, but depending on your needs, the price may be worth it.
Next Steps?
If you've narrowed down your options or still need guidance in determining what's right for you, no worries! Talk to an expert at Atlantis Worldwide. We're happy to help you evaluate your needs, market and options so you can make a decision with confidence. Contact Us Today!
Some blogs you may have missed:
Meet the author: Vikki Harmonay