Hey, everybody wants a good deal, right? And oftentimes you can buy items on eBay for less than you'd find them through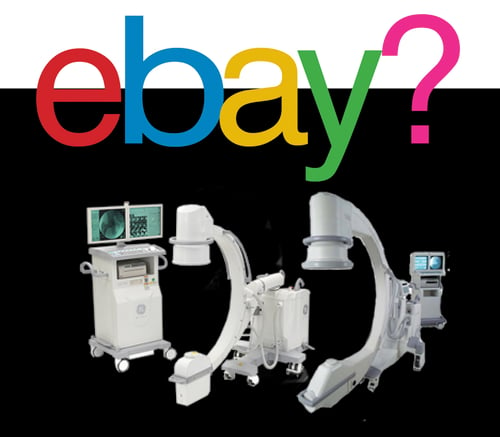 dealerships or traditional sales organizations. But when it comes to medical imaging equipment, the LAST place you want to buy one is eBay. Why?
When you buy a C-Arm on eBay, you can't inspect what you're buying. And when the price tag is in the thousands, the last thing you want to do is take an expensive chance.
When you buy a C-Arm on eBay, you don't get a warranty of any kind. When you buy a used or refurbished C-Arm through traditional channels like Atlantis Worldwide, you get beefy service warranties to protect your investment.
When someone is selling a C-Arm on eBay, oftentimes they leave out important information, like the software functionalities. (i.e. Vascular vs. Non Vascular). You might not know what you're really getting.
Even if the C-Arm is in pristine shape before it's shipped, unless it's packed and transported by movers who specialize in transporting medical imaging devices—and correctly insured—it could be damaged.
If you buy a used system on eBay, no FDA Form comes with the system. Since a doctor needs this to register the C-Arm with the state before they can use the system, this is a big problem.

Unfortunately, most C-Arms that are sold on eBay still have past patient information on the hard drive of the system. This is a HIPPA violation.

Your eBay C-Arm can't be returned.
Would You Buy A C-Arm On eBay?
If you're a physician that's just starting out and funds are limited, or if you're looking for a deal on a used C-Arm or pre-owned medical imaging equipment, talk to an expert like Atlantis Worldwide. You can take advantage of a Rent-to-Buy program, Rental program and Easy, Flexible Financing Programs for used, refurbished or new C-Arms. Contact Us Today!
Some blogs you may have missed:
About the author: Vikki Harmonay