Searching online for C-Arm prices? You found them! Search no more: we have listed prices for the most popular Philips C-Arms and most popular Siemen C-Arms in our info-graphic. We also have an info-graphic for OEC C-Arms – which you can
click here to view!
As a leader in refurbished and used C-Arms we want to help you with C-Arm questions and identify the best solutions at the appropriate price.
This is definitely not a one size fits all product. Depending on what you will be using your C-Arm for will depend on what model will fit your needs.
Besides budget, you will need to know exactly what studies will be done at your facility.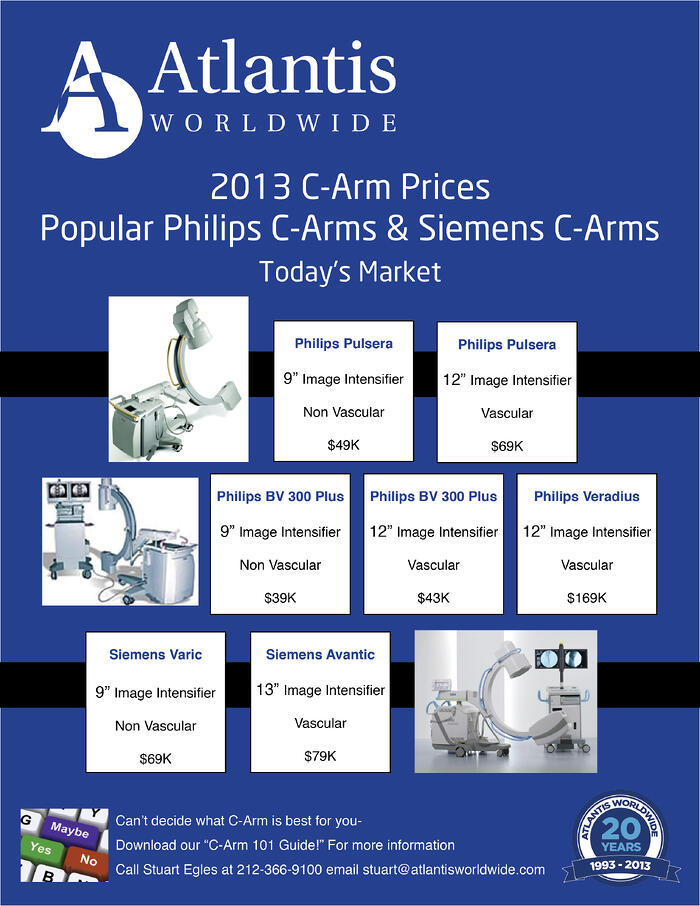 These prices listed are close estimates to the prices on the market today. The factors determining the costs are the year the C-Arm was manufactured, the condition (refurbished to OEM standards) or just used, the options available and warranty included when purchasing your C-Arm.
Our C-arm expert will gladly answer any questions and give you a firm quote with the options that you specify. If you need guidance in choosing your best options he will also help you determine the best fit for your facility. Contact Us Today!