Yup.
It's easy to get confused about the coils used in
MRI Scanners
.
After all, there are so many of them—and each is used for different purposes, or multiple ones! So let's try to simplify things a bit.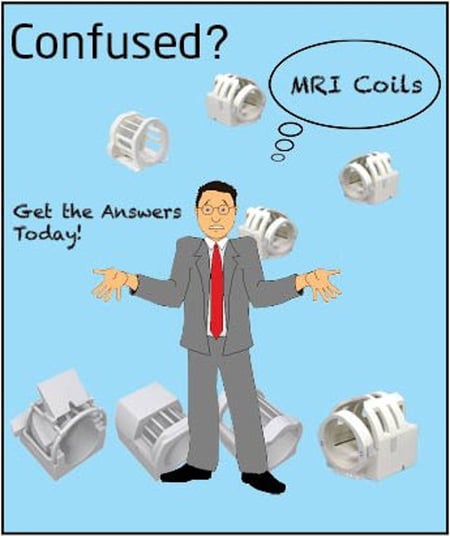 An MRI consists of multiple coils of conductive wire. They are stacked or nested, and loop around the core of the coil. Each wire serves a different purpose, but are usually a physically small antennae of sorts. They produce a uniform magnetic field without producing significant amounts of radiation.
Type of MRI Coils
There are a wide variety of coils available in the marketplace today, including Gradient, RF, Surface, Volume, Shim, Array and Extremity.
Gradient Coils
Gradient coils create a secondary magnetic field, which slightly distorts the main magnetic field in a predictable manner. This allows spatial encoding of the MR signal.
Some Gradient Coils:
Figure 8 Coil
Golay Coil
Helmholtz Coil
Maxwell Coil
Paired Saddle Coil
Shielded Gradient Coil
(RF) Radiofrequency Coils
RF coils can be used as transmitters and receivers. When used as a transmitter, they generate an oscillating or rotating magnetic filed that is perpendicular to the Bo, or static main magnetic field. When used as a receiver, RF coils detect the MR signal. In the past, most RF coils had both transmit and receive capabilities. However, most of today's newer scanners utilize separate transmit-and-receive systems.
Surface Coils
Surface coils are "receive only" coils. They have a great signal-to-noise ratio for tissues placed adjacent to the coil. The further the tissue is from the coil, the less sensitive it is. Surface coils are used for spines, shoulders, temporomandibular joints and other smaller body parts.
Volume Coils
Volume coils are designed to provide a homogeneous RF excitation across a large volume, like whole-body imaging. Volume coils can also be smaller, and are used for the head and other extremities. Common volume coil designs include Birdcage, TEM and Saddle coils. Volume coils are great for transmitting, but less ideal when used for small regions of interest.
Shim Coils
Shim coils provide auxiliary magnetic field in order to adjust the homogeneity of a magnetic field. It's use prior to the operation of the magnet.
Array Coils
An Array coil combines the benefits of smaller coils with those of larger ones. These include Coupled Array, Isolated Array and Phased Array coils.
Extremity Coils
Extremity coils are great for use on wrists, ankles, elbows, shoulders and other extremities that can be encased in anatomically specific receiver coils.
The physics and design of these coil types are different, and each is ideal for different MRI purposes. If your practice, clinic, facility or hospital is in need of an MRI, talk to the experts at Atlantis Worldwide. We're happy to help you understand the purpose and benefits of each kind of coil. We can also help you determine if your needs can be satisfied with a refurbished or used MRI, which can provide significant savings, while still delivering the kind of warranty you need.
For more information contact Aston Diaz at 212-366-9100 x 110 or astondiaz@atlantisworldwide.com
Some blogs you may have missed:
About the author: Aston Diaz