Searching online for Mammography prices? You found them! Search no more; we have prices listed for the most popular Mammography on our new 2021 Info-graphic. As a leader in refurbished and used Mammography we want to help you with Mammography questions and identify the best solution at the appropriate price.
This is not a one size fits all product. How you plan on using your Mammography Devices will determine what model will fit your needs.
Check out our 2021 Mammography Prices Below: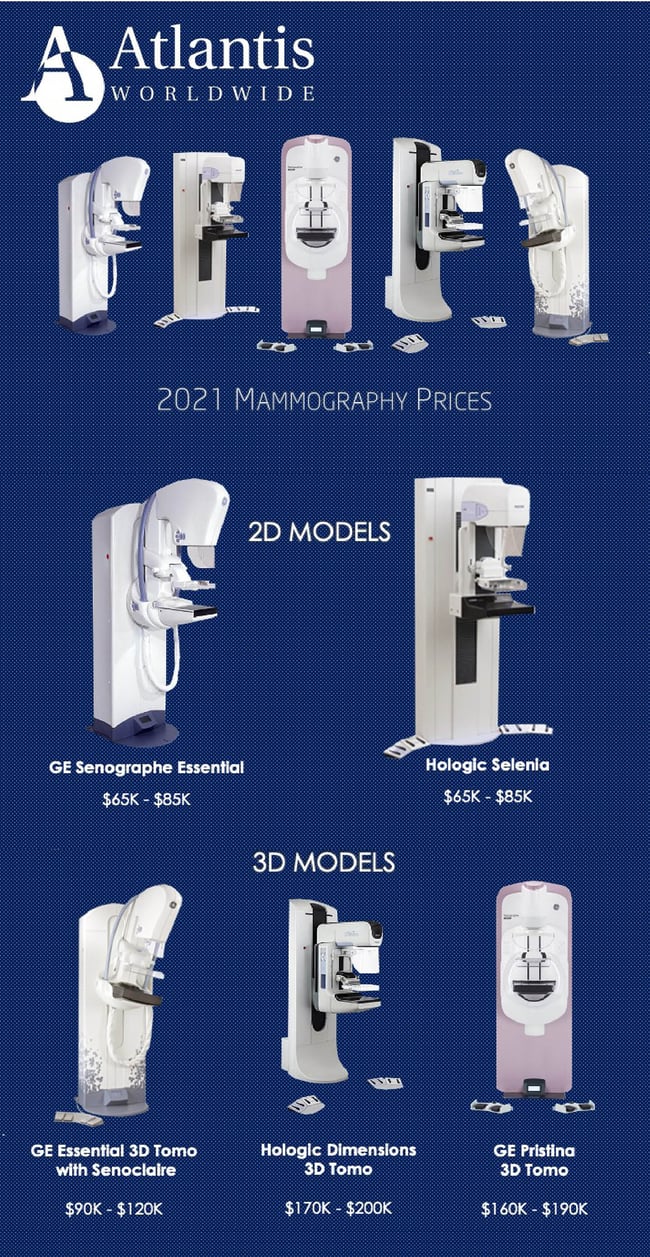 2D Models

GE Senographe Essential
This full-field system was originally introduced in 2006 as GE Healthcare's flagship digital mammography system. It's an upgradeable platform that allows you to provide high quality care by performing a wide variety of breast procedures—from in-office or mobile screening to advanced diagnostics. It offers a high throughput with one of the industry's largest field of view—24 X 31 cm. You can also choose a standard field of view of 19 X 23 cm. It also allows you to get quick and easy patient positioning.

Hologic Selenia
The Hologic Selenia Dimensions 2D digital mammography system offers a flexible digital breast imaging platform that can be configured for 3D breast imaging. The Selenia Dimensions 2D system integrates image acquisition and simultaneous display of priors integrated into a single workstation. The system has an ergonomic gantry and acquisition workstation and an advanced selenium direct capture detector with a fast cycle time.

3D Models

GE Essential 3D Tomo with Senoclaire
A breast tomosynthesis solution using 3D imaging technology. Developed in partnership with Massachusetts General Hospital, the technology uses a low-dose short x-ray sweep around the breast to produce nine exposures, reducing image blur due to motion, and increasing sharpness. The technology is available for sale and as an upgradeable feature on GE's SenoGraphe Essential system.

Hologic Dimensions 3D Tomo
This Low Dose Genius™ 3D Mammography™ exam is performed in a rapid 3.7-second scan time for greater patient comfort and low patient dose, due to the elimination of 2D X-ray exposures. The synthetic 2D images and 3D™ slices are reviewed together to make clinical decisions or diagnoses part of the Genius™ 3D Mammography™ screening exam.

GE Pristina 3D Tomo
Superior diagnostic accuracy
Senographe Pristina is the ONLY FDA approved 3D mammography that delivers at the same low dose as 2D FFDM the lowest patient dose of all FDA approved systems.2,3 The diagnostic accuracy of 2-view DBT with V-Preview is superior to that of 2-view FFDM. The Senographe Pristina platform is upgradeable to advanced applications.
Why the different Price Variations?
These prices listed are close estimates to the prices on the market today. The factors that determine the prices are the year the Mammography was manufactured, the condition (Refurbished to OEM standards) or just used, the applications that comes with the Mammography and warranty included when purchasing your Mammography.
If you are considering buying a used or refurbished Mammography, you can buy it with confidence. With that said, you will need to work with a reputable company like Atlantis Worldwide so you can get quality equipment and continual service that you can trust. To find out more, talk to an expert at Atlantis. We've been helping healthcare facilities find the ideal medical imaging systems to fit their needs and budgets for more than 28 years. We'd love to help you, too.
Here are some blogs you may have missed:
Meet the author: Vikki Harmonay