X-ray devices are great for medical diagnosis and interventional procedures. But how do you know which procedures are best with a mobile C-arm and which are ideal in a Cath Lab or catheterization laboratory?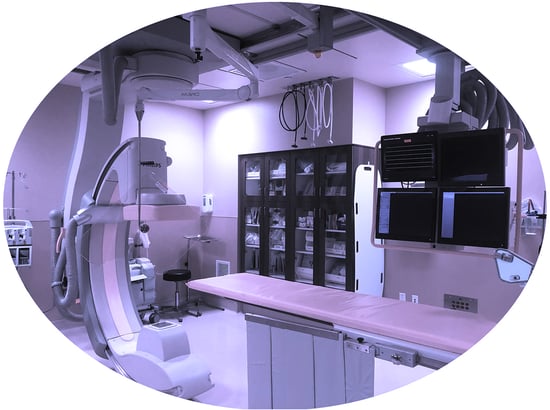 A Cath lab is simply an examination room in a clinic or hospital with diagnostic imaging equipment. While similar to a C-Arm, it's a mounted system instead of a mobile unit. It also has more power than a mobile C-Arm.
As a rule, physicians perform minimally invasive tests and procedures to diagnose and treat in a Cath lab. These procedures often include catheters or small, flexible tubes. These are used to access the heart and blood vessels without open surgery. Procedures in Cath labs include cardiac, vascular, angiography and neurology procedures.
Cath labs consist of a patient table, image intensifier or flat panel detector, viewing monitors, an injector pump, angioplasty balloons and a Defibrillator. They also have an X-ray image intensifier for fluoroscopic imaging and a single X-ray generator source.
There are single plane Cath labs that are either ceiling or floor mounted. There are also biplane or dual plane Cath labs with two C-arms. Either both are ceiling mounted or one is floor mounted and the other is ceiling mounted. Those systems have a dual X-ray source as well as a dual detector, which allows simultaneous two plane visualization that's great for coronary procedures.
Top providers of medical imaging equipment and Cath Labs include GE, Philips, Siemens and Canon Medical.
How Do You Decide?
Some important determinants to help you decide which Cath lab fits your needs are whether the system is biplane or single plane, whether it's floor or ceiling mounted and the size of the detector.
Biplane Cath Lab systems acquire 3D images more quickly than single plane Cath labs. Biplane Cath lab systems are ideal for neurology and cardiac procedures.
While single plane Cath Labs can take 3D imaging, it takes longer for the C-arm to move, so the image reconstruction process takes longer.
Biplane Cath Labs come equipped with 3D software. You have to purchase the 3D software if you have a single plane system.
You need more space for a biplane Cath Lab because it requires a double C-arm and requires a larger overall footprint. It also takes longer to get the site ready for imaging.
The cost of a biplane Cath lab is higher, because it has more components. Construction and operating costs can be 25-30% higher.
Biplane Cath labs give you the flexibility of simultaneous visualization from two planes, so you see more during the procedures.
As a rule, you can get similar performance from a single plane Cath lab at a much lower price.
Picking The Size of a Cath Lab Detector

The kind of work you'll perform with the system will determine the detector size that's best for you. For cardiac and pure neurological procedures, smaller detectors (20 cm) are preferred. For angio, abdominal and lower body vascular studies, 40 cm detectors are preferred.
Floor or Ceiling Mounted Cath Lab?
It's all about workflow, room space and the types of procedures you plan to do with your Cath lab.
Ceiling mounted systems like the Philips Allura Xper FD20 suspend the gantry or "C" from the ceiling. They require a more robust structure to hold the heavy weight. Ceiling-mounted systems also require a higher ceiling, in order to provide floor clearance for the gantry in its lowest position. Because the system will require a reinforced suspension, you'll need a higher budget for installation.
Talk to an Expert
If you're in the market for any medical imaging equipment, it's wise to talk to an expert, like Atlantis Worldwide. For more than 29 years we've been helping hospitals, urgent care centers, clinics, veterinary practices and other healthcare facilities find the ideal C-Arms, Cath Labs and other medical imaging. Oftentimes, a used or refurbished system will provide the performance you need at a price that's kinder to your budget. We've love to help you.
To find out more, contact Atlantis Worldwide Today!
Some blogs you may have missed:
About the author: Vikki Harmonay