One of the biggest problems Cath Labs have is not managing the significant heat produced properly. This type of electronic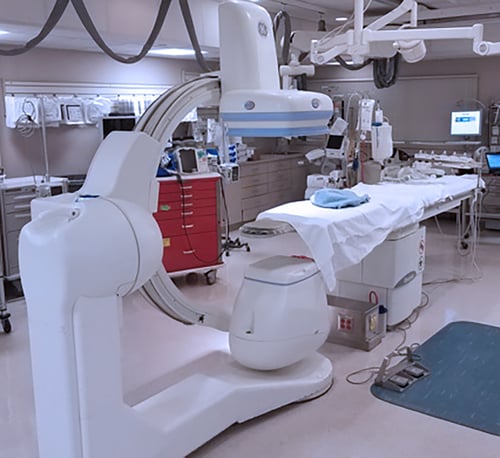 equipment generates a LOT of heat throughout the lab. Yet oftentimes when a Cath lab is designed and built, the right kind of cooling measures haven't been installed. As a result, this can lead to a heat build-up that isn't dissipated, resulting in significant damage. So what kind of cooling is needed for each part of a Cath Lab? The experts at Atlantis Worldwide put together this list to help you with proper planning for your Cath Lab.
Control Room and Scan Room Cooling Needs
Most control rooms house 1-3 computer workstations with 2-6 monitors. But, if studies are being performed in the labs or additional equipment is paired, there can be upwards of 15 monitors in the room, which can create a lot of heat. Toss in body heat from several lab technicians and a control room can get mighty uncomfortable. The good news is that the building's HVAC system can usually handle the heat if you just turn the thermostat down a few degrees, compared to the temperature in the hallway. The computers' internal fans will do the rest to keep the temperatures down.
The same holds true in the Scan Room—a building's primary HVAC should be sufficient to keep the room cool enough. While the gantry, table mechanisms and monitors can generate additional heat, it's usually only 4200 BTU per hour so it's manageable.
Equipment Room Cooling Needs Are Different
A building's HVAC will not be sufficient to handle cooling needs in the Equipment Room. The Cath Lab uses a closed loop chiller to keep the tube performing at its peak, unlike an MR or CT that uses an external chiller that's placed outdoors. These chillers create a lot of heat in the equipment room. For example, a GE Inova's tube chiller creates close to 19,000 BTU of heat per hour. When combined with the 4000 BTU that comes from the UPS cabinet and the 5300 BTU that comes from the system cabinets, you've got a lot of heat. That's why a Cath Lab Equipment Room usually has its own dedicated HVAC cooling unit, complete with a separate thermostat.
Talk To An Expert
If a new Cath Lab is in your future, be sure to discuss cooling needs with your equipment provider, site planner, architect and HVAC contractors early in the design process. You want to be sure to have sufficient cooling and temperature control in place to avoid heating issues once you're up and running.
The experts at Atlantis Worldwide have helped hundreds of clinics, hospitals, practices and urgent care centers with their Cath Lab needs. Oftentimes, a used or refurbished CT scanner, MRI or mammogram will provide the performance needed at a much more reasonable cost. Plus, they come with impressive warranties. We're here to help you explore all of your options so you end up with a Cath Lab that will handle your patient loads and the generated heat!
Some blogs you may have missed:
Meet the author: Vikki Harmonay