Digital Imaging and Communications in Medicine (DICOM) is the international standard protocol for all medical data exchanges.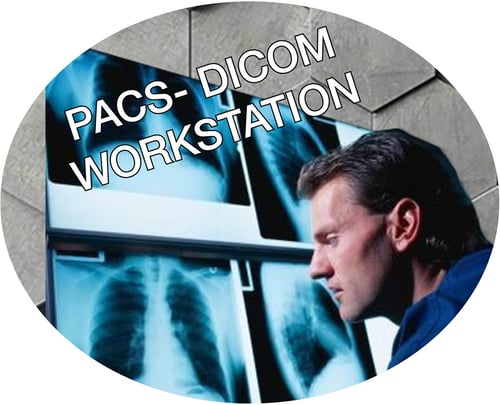 It's the implementation standard for every medical imaging modality, including MRI, CT, X-ray and Ultrasound. The file format for these are either DCM or DCM30 (DCM3.0) file extension.
All medical equipment found in medical imaging centers, hospitals and clinics can work together and distribute medical images correctly with DICOM, regardless of modalities. DICOM works across modalities, countries and clinics.
PACS, or Picture Archiving and Communication System, is a medical imaging technology that provides economical storage and convenient access to images from multiple modalities. It is most often used by modalities like CT and mammography scanners. If a heath care facility has large volumes of patients, there could be more than one workstation per modality.
It usually has four basic elements:
Medical imaging equipment, including CT, MRI, X-ray, ultrasound and more
A secure network for the distribution and exchange of patient examining data
DICOM mobile devices or workstations for viewing, re-processing and interpreting medical images
It has printers and archives for storage and retrieval of images, related documentation and reports
PACS also serves as an integration for all of these resources, allowing healthcare organization to capture, store, view and share medical images externally or internally. Because of this, remote diagnostic and image interpretation is possible.
Workstations are an option for most medical imagining equipment. Because it is independent of the main modality console, it makes it easy for patients to flow for examinations. It enables remote diagnostic and intensive interpretation of acquired images. By accessing the advanced processing functions or options, a workstation allows re-processing of the DICOM raw data it acquires from different modalities.
Each OEM uses different types of workstations. For example, GE uses ADW, Siemens uses Leonardo or Terracon, Toshiba uses Vitrea and Philips uses Brilliance or Eleva.
To ensure the image quality is good enough for accurate diagnosis, unlike CT, mammography requires a dedicated workstation with two pieces of 5mp monitors.
Images from all modalities are available on DICOM servers, enabling them to be evaluated in a Diagnostic viewer/workstation or printed. They can be distributed through the internet to your storage or to diagnostic viewers at other facilities. They can also be accessed and viewed online.
Talk To An Expert
Are you in the market for medical imaging equipment? Do you need a solution that's kinder to your budget but still delivers the performance and warranties you want? Talk to Atlantis Worldwide. For more than 29 years we've helped health care operations acquire refurbished or used medical imaging equipment. We'd love to help you.
For more information, contact Atlantis Worldwide today!
Some blogs you may have missed:
About the author: Vikki Harmonay