Well, the computed radiology legislation took effect last year, forcing most diagnostic clinics, facilities and department to phase out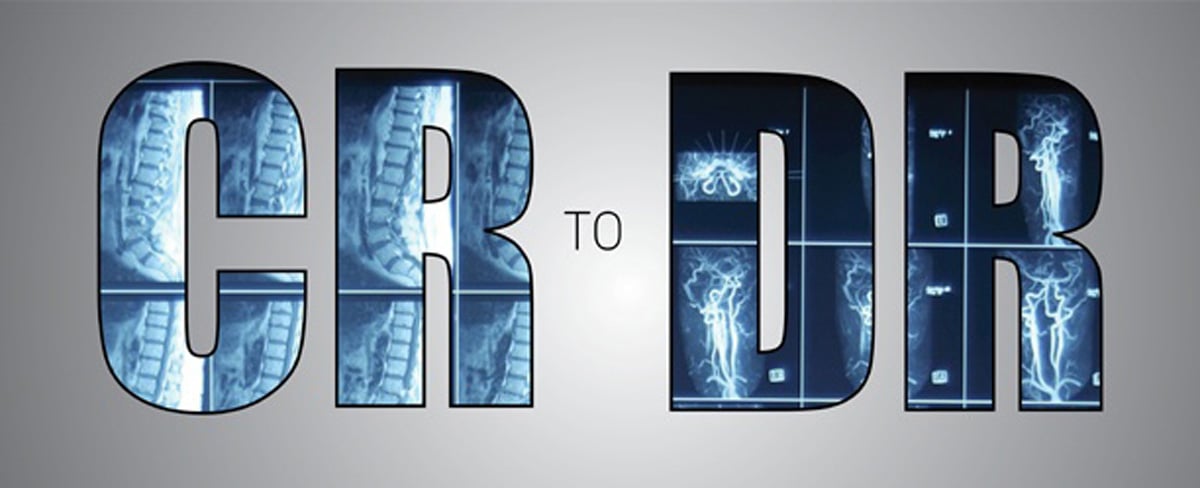 old CR equipment and replace them with digital solutions. There's nothing quite like a reduction in Medicare reimbursement to get things moving, right?
Some existing CR equipment can be retrofitted, including Konica, Carestream, Canon and Fuji. Each offers retrofit solutions that upgrade to flat-panel detectors. The most popular choices at 14 X 17 and 17 X 17, although smaller panels sizes are popular for pediatric and orthopedic imaging. While many radiologic entities chose to retrofit and upgrade equipment in 2017, in 2018 the trend is toward replacing analog systems with new digital imaging solutions. Large entities are choosing bundled systems while smaller facilities are selecting more budget-friendly systems configured with a single detector.
New X-ray Detectors Offer Lighter Wireless Options
Remember when smartphones were thicker, heavier and harder to handle? Now every option is sleek, lightweight and sturdier. The same thing holds true with the evolution of X-ray detectors. They're now easier to handle, lighter weight and a lot more durable—not to mention the sharper, high quality images delivered with digital technology.
Since many radiology practices are in the market for these much-improved systems, we thought we'd share some of the latest and greatest with you.
Konica Minolta has a new wireless flat panel digital detector called the AeroDR HD, witch can switch from high definition 100-micron to high dynamic range 200-micron. It makes it easy to go from imaging smaller body parts like hands to more complex bone and soft tissue like the chest, spine, hip and abdomen.
Fujifilm is releasing new pediatric detectors and mobile units that features its D-EVO II Celsium iodide detectors. The exposure menus help techs learn the new techniques for pediatrics, rather than reverting to traditional CR techniques.
Canon has introduced two lightweight DR detectors: the CXDI-710C wireless digital detector and the CDXI-810C wireless digital detector. Both are IPX7-rated for water resistance and are among the lightest on the market. Their batteries can either be charged in a Canon battery charger or in the new CXDI docking station, which reduces overall charging time by 20 percent.
Radmedix now offers an Acuity 10" X 12" Cesium lodide and Gadolinium Oxysulfide wireless DR detectors, with phenomenal resolution and the industry's first wireless charging system.
Rayence is launching its new C-Series Cesium lodide and Gadolinium Oxysulfide wireless detectors with a 140-micron pixel size that uses less radiation dose without sacrificing imagine quality.
Varex Imaging introduced several new detectors in 2017, including premium versions of their 10" X 12" and 15" X 17" detectors in the XRpad series. These 100-micron detectors have fast readouts that support advanced applications. In addition, Varex Imaging released value-tiered fixed and wireless detectors and fixed and portable cassette-sized detectors.
Vieworks launched its 14" X 17" flat panel detector for general radiology, call the VIVIX-S 1417N. It features Anytime, an automatic exposure detection feature that eliminates the need for a cabled connection between the X-ray system and the generator.
These are just a few of the new entries in the marketplace. At Atlantis Worldwide, we're always excited about the introduction of new radiology technology. At the same time, we recognize that many radiology departments, clinics and facilities have to watch their pennies and prefer to retrofit a new digital detector, complete with warranties. If you still need to upgrade to digital radiographic solutions, contact one of our experts today. It's all about getting the most bang for your budget. Contact Us Today!
Some blogs you may have missed:
Meet the author: Vikki Harmonay