The Beginning of XR-29
In April of 2014 the Protecting Access to Medicare Act (PAMA) was formally signed into law. The legislation had many implications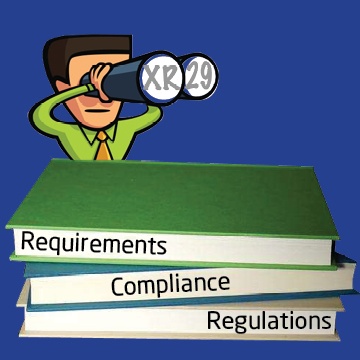 for imaging providers. One of the most noteworthy additions – requirements that focused on a health care providers ability to comply with the National Electrical Manufacturers Association (NEMA) XR-29 Standard Attributes on CT Equipment Related to Dose Optimization and Management, also known as MITA Smart Dose.
These regulations went into effect on January 1, 2016 and affect every facility that operates a CT scanner. And on January 1, 2017 the penalties for non-compliance with all of the imposed standards increase substantially. So, the questions that must be asked are: do you understand the new regulations and are the CT scanners in your facility XR-29 compliant?
Luckily, Atlantis Worldwide is here to help you make sense of it all. The American College of Radiology recently released a list of frequently asked questions about the NEMA XR-29 (MITA Smart Dose) Standard that can be found here! And since it reads like the technical document it is, the rest of this article can help breakdown some of the basics for you.
What XR-29 Means to You
The NEMA XR-29 standard (MITA Smart Dose) targets four specific attributes of CT scanners that relate to the dose amount of ionizing radiation delivered to a patient while performing a CT scan. The standards are specifically designed not to affect the diagnostic image quality of the scan while insuring the minimal exposure to technicians and patients. The four areas of focus that must comply with the new standards on all CT scanners are:
DICOM-compliant radiation dose structured reporting
Dose check features
Automatic exposure control
Reference adult and pediatric protocols
Non-adherence to the new MITA Smart Dose standards means a reduction of the global fees on diagnostic CT procedures billed in imaging centers, physician offices and hospital outpatient settings. The current fee reduction stands at 5% of the total cost. However, as of January 1, 2017 that reduction jumps to 15%. The underlying fact is that penalty for non-compliance will result in lost income.
What Does XR-29 Affect?
NEMA XR-29 directly affects any scans billed as a Medicare outpatient procedure. That means any diagnostic CT procedure that includes head/brain, abdomen, pelvis, upper extremity, lower extremity, etc. It does not affect ACR accreditation of your CT scanner. The law also does not affect the reporting or require a facility to actually use the newly required features. To insure adherence to these new standards, it will be monitored by scanner accreditation commissions by conducting unscheduled inspections of CT scan facilities.
So What Do I Do Now?
The first step is determining whether your CT scanner/s are compliant with NEMA XR-29 Smart Dose standards. The best way to do this is by determining the exact model of your CT scanner and contacting the manufacturer. There are two outcomes:
Your CT scanner meets the new standards (hooray!)
Your CT scanner

does not

meet the new standards (don't worry, we can help)
If your scanner is good to go, it is recommended that you visit your manufacture's XR-29 Vendor Certification Web Portal on the MITA Smart Dose Website. Click Here to download verification of compliance.
Your CT Scanner Needs an Upgrade
If your CT scanner needs an upgrade but the manufacturer is unable to perform it. Don't stress, Atlantis Worldwide is here to help. Our engineers are highly trained experts who are certified to work on and upgrade a variety of CT scanners and radiologic equipment. Please don't hesitate to contact us for a consultation and to discover what your options are.
Contact Jeff Weiss at 212-366-9100 or jeffweiss@atlantisworldwide.com for more information on how to upgrade to XR-29
And if you're looking for more information about XR-29 check out our other articles.
Meet the author: Vikki Harmonay