NEW 2019 C-Arm Price Infographic online now! Click here to see 2019 Updated prices. Hot off the press!
Searching online for OEC C-Arm prices? You found them! Search no more; we have specs and prices in our cool infographic. As a leader in refurbished and used C-Arms we want to help you with C-arm questions and identify the best solution at the appropriate price.
This is definitely not a one size fits all product. Depending on what you will be using your C-arm for will depend on what model will fit your needs.
Besides budget, you will need to know exactly what studies will be done at your facility.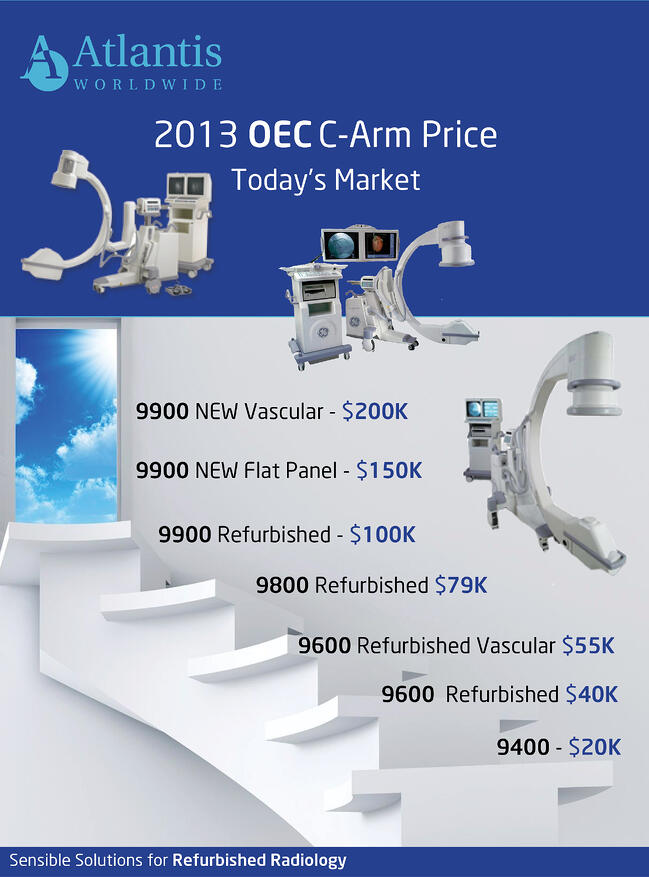 What are the some differences between the OEC 9400, OEC 9600, OEC 9800 and OEC 9900 C-arm?
Years Manufactured
The 9400's were manufactured from 1990-1994
The 9600's were manufactured from 1994-1999
The 9800's were manufactured from 1999-Present
The 9900's were manufactured from 2006-Present
Image Intensifier
OEC 9400 only has a 9"
OEC 9600 comes in 9", 12" and 9" Super C
OEC 9800 comes in 9", 12" and 9" Super C
OEC 9900 comes in 9", 12" and 9" Super C
Options
OEC 9400 is available with General Surgical Package, Extended Surgical Package and Vascular Package
OEC 9600 is available with General Surgical Package, Extended Surgical Package, Vascular Package, Neurovascular Package and Cardiac.
OEC 9800 is available with General Surgical Package, Expanded Surgical Package, ESP 8, Vascular, Neurovascular, Cardiac
OEC 9900 is available with Orthopedics, General Surgery and Pain Management, Basic and Advanced Vascular
,Cardiac Surgery and Mobile Cardiac Cath/EP Lab
Why the different Price Variations?
These prices listed are close estimates to the prices on the market today. The factors determining the costs are the year the C-arm was manufactured, the condition (Refurbished to OEM standards) or just used, the options available and warranty included when purchasing your OEM C-arm.
Alex Silbergleit our C-arm expert will gladly answer any questions and give you a firm quote with the options that you specify. If you need guidance in choosing your best options he will also help you determine the best fit for your facility. You can also reach him at 212-366-9100 or email alex@atlantisworldwide.com
Click Button for more info or a quote.

More C-Arm Blogs you might be interested in:
They Look Identical, Right? OEC 9600 C-Arms & OEC 9800 C-Arms
Refurbishing a C-Arm Inside and Out
The Right C Arm… or the Left? Which is Best For You?
The A, B, C's of Purchasing C Arms
Choosing the Right Pain Management C-Arm Doesn't Have To Be A Pain
Meet the author:
Vikki Harmonay