SafeCT Iterative 3D Image Reconstruction—Universal Add-on System for CT Scanners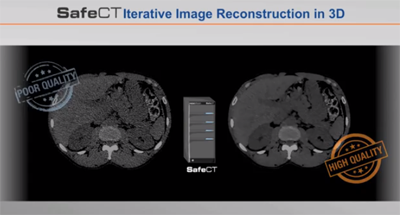 Watch Medic Vision's video about SafeCT, an iterative image reconstruction add-on product that enhances low-dose protocols on your CT scanner.
Atlantis Worldwide is the exclusive US representative for SafeCT.
The video describes how SafeCT/SafeCT Enterprise Edition can be added to the CT practice to enhance studies acquired with low-dose protocols, and outlines advantages of SafeCT products over OEM solutions from major vendors. Watch Time is 1:52
Over 100,000 low-dose CT studies have been processed by SafeCT!
Please visit us at Radiation Safety in Computed Tomography Virtual Symposium http://rorl.radiology.ucsf.edu/symposiumRegistration/AtlantisWorldwide
Blogs you may have missed: