Another MD EXPO has come and gone and yet again it was a great success! The MD EXPO is so much more than a source of educational classes that technicians are required to attend. This show continues to connect the various different personnel within a hospital or clinic that attend the show, from directors and managers of imaging service to radiology and biomedical technicians, to the providers of medical equipment, parts and service.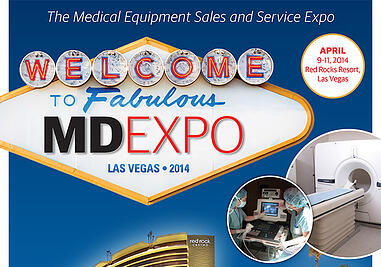 The MD EXPO, which is a fraction of the size of similar shows like the RSNA, provides a much more intimate setting where Hospital and Clinical personnel can link up with equipment and service providers. The spring edition, located at the Red Rock Resort and Casino in Las Vegas, enabled these interactions to occur at the welcome reception, on the tradeshow floor and even at the MDEXBOWL closing event.
The companies that exhibit at the MD EXPO are all competitors with each other but over the years have become very friendly, which only adds to the intimate experience that the MD EXPO offers. Atlantis Worldwide had a representative at this year's show and has had one at 5 of the last 6 MD EXPOs to show both the exhibitors as well as the attendees that not only is Atlantis Worldwide a great source of imaging equipment, but we can also support the parts and service needs that facilities may have. As we move into the 2nd Quarter of 2014 our plan is to solidify our position in this part (no pun intended) of the industry.
The next MD EXPO will be in Orlando in October so if you plan on attending look for us there. Until then, if you have a need for equipment, parts or service, give us a call!
Call us at 212-366-9100 or Contact US!
Some other blogs you may have missed:
Meet the Author: Alex Silbergleit ‪