C-Arms and Cath Labs are both essential medical imaging technologies used in the field of interventional radiology and cardiology, but they serve different purposes and have distinct features.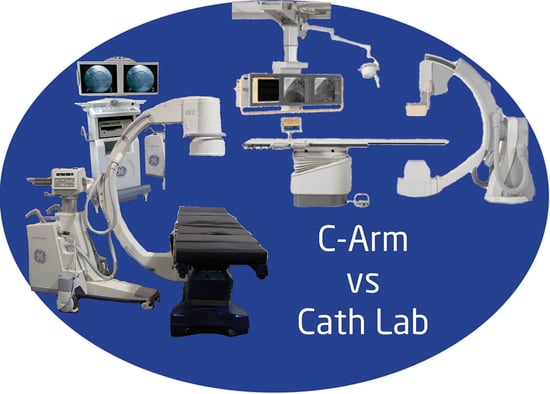 If you're opening a surgical center, you'll need to decide which is right for you: Mobile C-Arms and Cath/Angio or Interventional Labs. Each has different features to consider.
The primary purpose of a C-Arm is for real-time fluoroscopy and X-ray imaging for a variety of medical procedures. C-Arms are versatile and can be used in a wide range of applications. These include surgeries, pain management and vascular procedures.
The primary purpose of Cath Labs is for diagnosing and treating cardiovascular conditions. Equipped with advanced imaging capabilities, a cath lab allows you to visualize the blood vessels during procedures like stenting, angioplasty and cardiac catherization
Power
When it comes to power, a Cath Lab wins over a C-Arm. C-Arm generators have an output of 7.5kW to 25kW. Cath Labs have an output of up to 100kW. If you want to do longer or more advanced studies with extended fluoro time, a cath lab delivers the power. For pain management and basic surgery, C-arm is the best choice.
Features
C-Arms aren't as feature-rich as cath labs. Cath systems have additional post-processing options, multiple review stations and table-side controls, to name a few. These features help facilitate the longer and more advanced work done in cath labs. However, if you are performing more basic and lighter studies, these features won't be essential to you.
Logistics
When it comes to costs, C-arms have the advantage. They can plug into a standard 120v outlet, they're mobile and as a rule, they don't require fixed lead shielding. In addition, you can set one up in less than an hour.
A Cath Lab installation can often require significant remodeling of your facility. You'll need to consult with electricians, plumbers, HVAC, general contractors and imaging engineers.
Cath labs have more stringent shielding requirements. Your lab will need to be lined with leaded drywall. As a rule, it takes at least two weeks to install a cath lab.
Price
There are lots of factors to consider, but either of these systems could be more expensive, depending on factors like analog vs. digital, model and system age. Most of the time, the ongoing costs of cath labs are higher. They have more components and moving parts. And should a major part fail in a Cath lab, the cost for replacement will be significantly higher. For example, C-Arm tubes can cost between $6,000-$10,000. And X-ray tube for a cath lab costs $30,000-$60,000.
Radiation Dose
C-Arms typically have lower radiation doses compared to cath labs. However, the dose can vary depending on the procedure and the settings used. Cath labs use higher radiation doses due to the need for detailed imaging of the heart and blood vessels. Special care must be taken to minimize radiation exposure to healthcare providers and patients.
Talk To An Expert
Before you choose a C-arm or a Cath Lab for your facility, it makes sense to talk to an expert. Talk to Atlantis Worldwide, who has been helping health care professionals with their medical imaging needs for more than 30 years.
To find out more, contact Atlantis Worldwide Today!
Some blogs you may have missed:
About the author: Vikki Harmonay