The nation's top cardiologists and radiologists bather at the Society of Cardiovascular Computed Tomography meeting every year.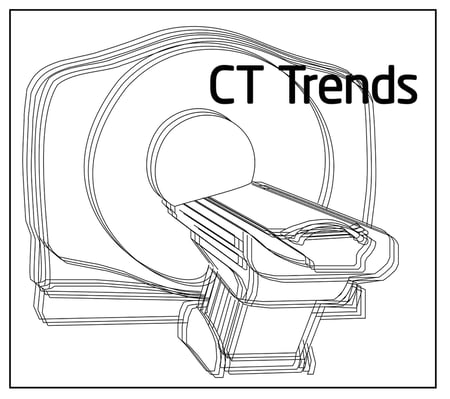 This year, that meeting took place in Baltimore and there were several interesting new trends that were discussed.
Integration of Artificial Intelligence Into CT systems
GE Healthcare and Canon Medical Systems appear to be leading the pack in deep-learning CT image reconstruction software. They were on hand in Baltimore to demonstrate their software, each of which gained clearance from the U.S. Food and Drug Administration this spring.
Jeannie Yu, M/S., FACC, FSCCT, director of cardiovascular imaging at Long Beach VA Health System explained that in deep learning, the system is fed the answers and the machine figures out what needs to be done with input image data to make it look like the ideal reference image. This can result in image recovery with better noise reduction and resolution than interactive reconstruction images. Long Beach VA Health System is using AiCE deep learning reconstruction (DLR) software from Canon Medical Systems for the Precision CT system. It uses 10 convolutional neuro network algorithms with different kernel sizes to reconstruct the images. The system does require a lot of computing power—71.2 teraflops. A single teraflop is a unit of computing speed that's equal to one million floating-point operations per second. As a comparison, a Playstation 4 game console operates at 1.8 teraflops.
GE Healthcare also showed examples of its Deep Learning Image Reconstruction software on the new Revolution Apex CT system at the conference. It uses a dedicated deep neural network to generate what GE calls TrueFidelity CT Images. When compare to current iterative reconstruction technology, TrueFidelity CT images can elevate every image with better image quality, sharpness and noise texture.
Integration of CT Calcium Scoring Guidelines
Last fall The American Heart Association releases updated cholesterol management guidelines that encourages the use of calcium CT scoring risk assessment. According to the guidelines, calcium scans can help assess a patient's risk of having a coronary event and help doctors and patients decide if statins should be prescribed. Thought leaders at the conference felts that the calcium scan could be used to show whether or not there is a need for statins. With a calcium score of zero, a patient would not have a risk for a coronary event and would not need statins.
Spectral Imaging Advancements
There's been a lot of buzz abound Spectral CT in the past few years because of its potential to garner more information from CT images. This would help make definitive diagnosis in cases of small pulmonary embolisms, determine if shadowing inside a stent is artifact or restenosis, provide better delineation of aortic stent graft endoleaks and enable better visualization of ischemia or infarcts using enhanced iodine mapping techniques based on different x-ray energies. New scanners from Siemens, GE, Philips and Canon offer spectral imaging capabilities on their newest scanners.
New Tech In CT Scanners
New scanner technology was also previewed at the conference, with Siemens showing its CoTop CT scanner with a compact CT gantry, making it easy to fit into small rooms. Ideal for cardiology office-based imaging, the system has removable tablets on each side of the scanner, enabling the tech to adjust the machine, review scout scans and trigger the scanner. This allows the tech to remain with the patient at bedside longer instead of being in a control room and communicating via an intercom. No extra equipment is needed in a server tower, cabinet or closet.
Talk To An Expert
The experts at Atlantis Worldwide are always excited about new developments in medical imaging. After all, we've been helping healthcare professionals find their ideal refurbished and used medical imaging solutions for more than 27 years. If you're in the market for medical imaging equipment we hope you'll give us a call.
Our team at Atlantis Worldwide is happy to answer your questions and to guide you towards the best system for your needs. Please contact us!
Some blogs you may have missed:
Meet the author: Vikki Harmonay