Are you considering adding a Mobile MRI system to your facility? Before you talk to a Mobile MRI System provider, it's wise to gather information about your needs before your conversation.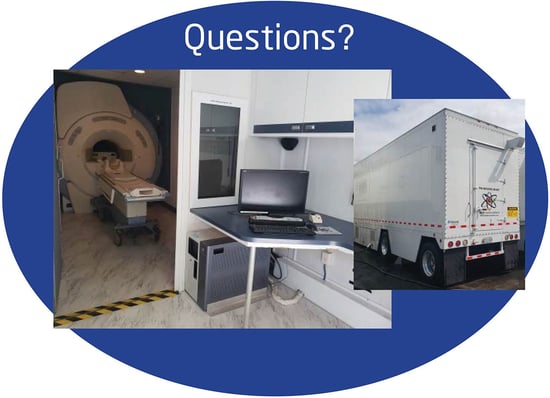 Here is a list of information you will need to share with your vendor.
Do you know which kind of Mobile MRI system you're looking for? The more information you can share, the better. (budget, wide bore, coil configuration, software features and brand)
How long will you need the Mobile MRI system? Most Mobile MRI systems are leased for three months or more. The cost of the lease is dependent upon the system you select and the length of time you'll need it. The longer you rent a system, the lower the monthly fee. Be sure you have a price range for what you want to spend each month.
How soon will you need the Mobile MRI system installed?
How familiar are your MRI technologists with the type of Mobile MRI system you want to use? Will they need to be trained? Do you need the vendor to staff the unit with ARRT-certified radiology technologists or patient assistants?
Where will your Mobile MRI system be located? Keep in mind that most Mobile MRI units only have room for changing and a workspace for a second technologist. You'll need to provides a storage area for equipment like crash carts nearby, as well as a space for family waiting, a patient toilet and a wash station.
Do you have the proper space for a Mobile MRI unit? Is the location flat, or does it have an incline or decline? Will it be easy to deliver the unit? Is there easy access for patients and staff?
What is the master plan at your facility? You don't want to establish a Mobile MRI system in an area where expansion is planned for the future.
Will you need to build a concrete pad for the Mobile MRI system?
Are there proper phone and IT hookups available at the site? It's important to know if you'll need a secondary hookup for other computers, or if you have the right attachments for the mobile unit to connect to PACS.
You'll need to research your state and local health codes, required permits and regulations, including ACR and Joint Commission.
What hours of operation will be available for your Mobile MRI unit?
Review the weather conditions at the site of your proposed Mobile MRI system. Will you need a canopy to protect patients from the elements during transport?
Do you have an MRI-safe wheelchair and stretcher? All patient transport aides for Mobile MRI systems are usually smaller than standard transport aids, and must be non-ferrous.
Still Have Questions?
Talk to the experts at Atlantis Worldwide. We've been helping healthcare facilities with medical imaging equipment and solutions for 30 years. We can answer any questions you might have and guide you to the right resources to fit your needs.
Some blogs you may have missed: