First came Philips' breakthrough Blueseal technology, a fully-sealed magnet that reduces the amount of liquid helium needed to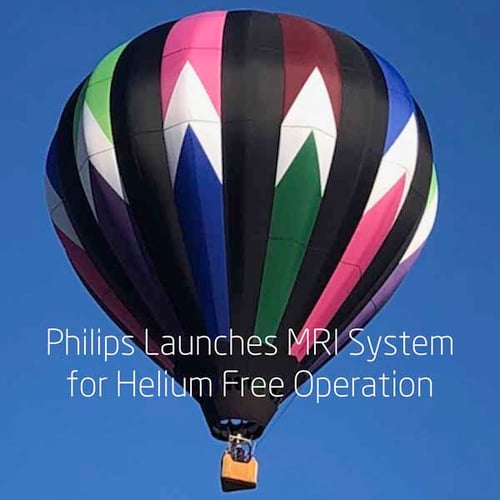 cool a magnet. Then came the Ingenia Ambition X 1.5 MR, the world's first magnetic resonance system to enable helium-free operations. This reduces the chance of potentially lengthy and costly disruptions and virtually eliminate dependency on a commodity with an unpredictable supply.
The fully-sealed magnetic resonance system doesn't require a vent pipe and is about 900 kg lighter than its predecessor. This also reduces the siting challenges presented by conventional magnets and lowering construction costs.
"BlueSeal is breakthrough MRI technology and we're proud to be first to market. The fully-sealed magnet dramatically reduces the amount of liquid helium needed to cool the magnet to less than half a percent of the current norm," says Arjen Radder, global business leader for MR at Philips. "This results in significant operational benefits for our customers, including a smaller, lighter and more flexible installation footprint and a more efficient return to normal operations if an interruption in service should ever occur."
This new MRI system is CE marked and has received 501(k) clearance by the FDA. The first commercial installation is at Spital Uster Hospital in Zurich, Switzerland.
The chief radiologist at the hospital, Andreas Steinauer, said, "We are very proud to be the first hospital in the world to offer this new cutting edge, resource-friendly MRI technology to our patients. With the new Philips Ingenia Ambition X, our patients can have the best of two worlds: leading MRI technology with a smaller footprint. This new leaner platform will allow more sites to deliver advanced MRI technology to their patients, helping to improve patient care."
At Atlantis Worldwide, we're always excited when new MR technology is introduced that benefits healthcare operations and patients. However, if you can't afford the newest technology for your practice, hospital or clinic, talk to the experts at Atlantis Worldwide. We can usually find a terrific refurbished MRI system to fit your needs and your budget. Contact Us Today!
Some blogs you may have missed:
Meet the author: Vikki Harmonay