It's no secret that healthcare in America is changing rapidly. And one of the innovations in medical imaging today is portable X-ray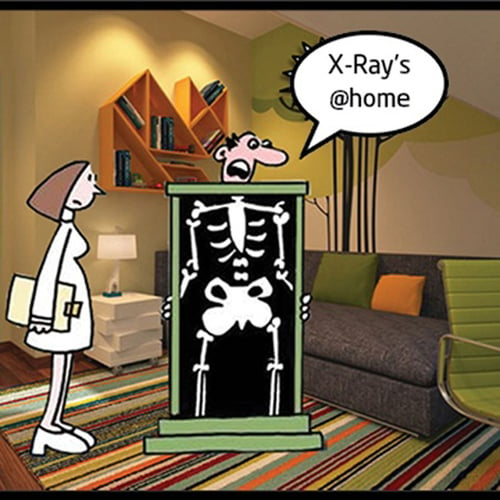 services.
It actually makes perfect sense, especially as the Baby Boomer generation begins to age and the number of elders who are frail is increasing. In-home X-ray services help patients who are frail or homebound avoid challenging and difficult trips to hospitals or imaging centers. These services are also convenient for patients with ankle, foot or leg injuries, or even those who may have potentially injured a rib while coughing.
There's also another market: the über wealthy who think nothing of paying for the services of concierge physicians and "special VIP care."
Paul Fowler, founder of Specialty Portable X-Ray, Inc. in New York was recently featured in an article published by Reuters. He was quoted as saying, "The very wealthy who don't want to go to the emergency room feel like they're above that; they'll call us and say, 'I twisted my ankle, can you come over and take an X-ray of my ankle.'"
The results from portable X-rays are usually provided directly to the patient's physician, usually within an hour. He said, "With the digital X-rays, we are using probably less exposure than you would at the hospital."
Other ideal markets for portable X-rays are assisted living and memory care facilities, prisons and those residing in rural areas.
There are some concerns that the quality of portable X-ray images is not as good as studies performed in a hospital or radiology clinic. However, if the choice is between putting the patient (or community) at risk by forcing them to visit a radiology clinic or letting them stay in their home (or prison) environment, the trade-off makes sense.
Of course, state and federal regulations must keep up with the portable X-ray trend, especially regarding radiation protection. The technicians must have training and the qualifications to be taking an image with portable X-ray equipment.
It will be interesting to see if the portable X-ray continues to grow. In the meantime, if you're looking for medical imaging equipment, remember that there are huge benefits from buying used or refurbished radiology equipment. To find out more, contact the experts at Atlantis Worldwide.
Contact Us Today for your preowned X-Ray needs or questions.
Some blogs you may have missed:
About the author: Vikki Harmonay