It's official. Social media is no flash in the pan. It's been embraced worldwide from tweens to grandmothers to politicians and, yes, the medical profession. In fact, a 2014 study from MedData Group revealed that 56% of doctors use social media professionally, most often to connect with peers and stay abreast of developments within their area of expertise. Some have used social media to elevate their stature as thought leaders, or even to market their practice.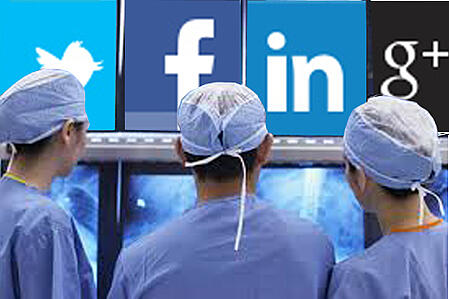 But what about patient privacy issues? How does a radiologist separate their personal privacy from their professional social media efforts?
According to a recent article on AuntMinnieEurope.com by Frances Rylands-Monk, the key to professional integrity is identity separation. "Doctors using Facebook, for example, should limit public access to their personal pages. Similarly, privacy settings should be adjusted depending on the nature of a post, whether for a closed circle of colleagues about specific cases, or for general subjects destined for nonmedical friends."
This is actually fairly easy. There are business pages and personal pages on Facebook, and never the twain should meet. In fact, if you set up your business on a personal Facebook page, you take the risk of the "Facebook police" taking down your page, and you'd lose all data about your Fans.
The article also cautions that it's fairly easy to track private individuals and link them to their professional profiles. "Online action and content posted may potentially damage reputations or even end careers so doctors need to learn how to clearly draw the barrier between private and professional life," said Dr. Erik Ranschaert, staff radiologist at the Jeroen Bosch teaching hospital, s-Hertogenbosch, the Netherlands at a recent convention.
Many healthcare professionals are turning to social media experts to manage their presence on Facebook, LinkedIn and other social media sites. Steve Weaver, CEO of Denver-based GrowthWeaver, a company that specializes in digital marketing for companies in the U.S., Europe and the Caribbean, said, "Facebook does not make it easy for companies to navigate the waters of social media successfully. There are changes in the rules of engagement on Facebook monthly, and even weekly. Unless you've got an expert tracking the changes and making sure your posts and engagement are in compliance, you're taking a risk. It's definitely not something to be trusted to a college intern or your wife's cousin who's 'good on Facebook.'"
The good news is, there are many ways radiologists or radiology practices can use social media. These include:
• Gathering and sharing news, clinical cases and images
• Professional networking (LinkedIn, Facebook)
• Blogs, podcasts and videos
• Mobile applications
• Slideshows and videos (SlideShare, Youtube, iTunes)
• Patient testimonials (Yelp)
There are also social tools that provide healthcare professionals with immediate online access to specialists to help manage tough cases, share data, images and make diagnoses. These include Doximity, Sermo and QuantiaMD. Of course these are not accessible to patients.
When done well, social media can help drive business to your practice and allow you to connect with patients on a more personal and immediate level. It can also let you connect with other practitioners. When done poorly, it can tarnish or damage your professional or personal reputation, and threaten the privacy of your practice or patients.
"If you have questions about harnessing the power of social media and putting it to work for your practice, clinic or facility, it's important to do your homework," said (Vikki Harmonay, Marketing Director) with Atlantis Worldwide. "The reputation of your practice is not something to dabble with. When in doubt, talk to an expert."
Some blogs you may have missed:
Meet the author: Vikki Harmonay