There are many reason you might be considering relocating medical imaging equipment. Maybe you bought a new piece of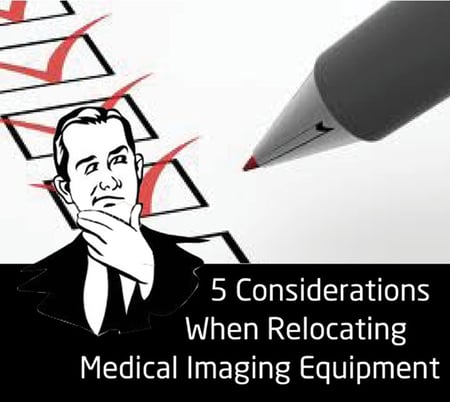 equipment, and it's now earmarked for one of your other healthcare facilities. Maybe you're finally moving to that new facility and you have to move current equipment to your new digs. Or maybe you just purchased a preowned system from a vendor or healthcare facility. No matter one the reason, there are lots of things to consider before you make the move. Way before you make the move.
Consideration #1: Will It Fit?
Every piece of medical imaging equipment comes with its own special specs. How large the room needs to be. If the doors are large enough. Is the floor strong enough to hold the weight? Is there enough electrical power to power the system? Will you have to move walls or use a crane? As you approach this project, your facilities manager should be involved every step of the way—even before you take that all important first step to buy or move the equipment.
Consideration #2: Hire professionals
Medical imaging machinery is complicated. Don't trust the disassembly or assembly of this expensive equipment to just anyone. It's always best to either have the OEM help you, or an experienced third-party organization. Remember, your OEM service contract might not move with the system you're relocating. You'll want to review your contract and speak with your vendor before you make the moving decision.
Consideration #3: Installing the system
As your team is planning for the move, make sure they plan for the actual move itself. It can take up to a week to reinstall a system. There are a lot of moving parts, and you'll want your whole team involved in establishing the timeline. That includes your building maintenance crew, electrical company, installers, contractors, medical imaging technicians and hospital administrators. Make sure hallways and elevators are available, and foot traffic is rerouted.
Consideration #4: Calibrating the new system
Once the installation is over, it ain't over. Medical imaging machinery is sensitive and will probably need recalibration before the first patients arrive. Again, work with a professional. This equipment is too expensive to trust in the hands of the wrong technician.
Consideration #5: Check and double check
Once you've got a plan of action, review every step and detail again. It's also a good idea to talk to a company with extensive experience in medical imaging device relocation, like Atlantis Worldwide. We're happy to provide you with a free consultation. You'll get great advice and peace of mind. Ready to talk?
Follow Atlantis Worldwide on Twitter: @AtlantisLLC

Other blogs you may have missed:
Meet the author: Vikki Harmonay