One of the biggest expenses for medical imaging equipment is the cost of X-ray tubes and CT tubes. As medical facilities continue to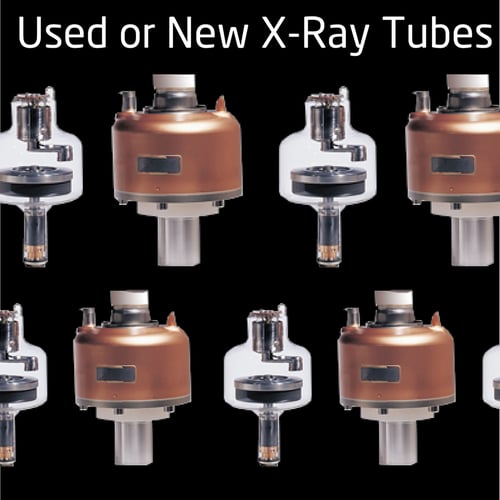 tighten budgets, administrators and purchasing agents are constantly on the lookout for ways to save money. How do you know if buying a used CT tube is the way to go? How can you be sure that buying used is the best way to save money?
The Beauty of Buying New Tubes
Besides the exorbitant cost, new X-ray or CT tubes provide a lot of peace of mind. A new tube will always come with a better warranty than a used one. As a rule, these warranties cover an extended use period and also offer a "full replacement" clause. Most warranties for new tubes last for 12 months. Some are full replacement and others are prorated. Be sure to read the fine print before you buy. Warranties tend to differ between liquid bearing tubes and conventional ball bearing tubes. Liquid bearing tubes usually have longer warranty over all.
New tubes are considered to be more reliable, of course. But a warranty is only as good as the company standing behind it. It's important to choose a reputable seller because even brand new tubes can fail.
A word of warning: not all OEM parts are new. Sometimes OEMs bring in exchange parts, repair them and offer them alongside their new parts. You'll want to ask your supplier about the age of the tube, as well as manufacturer, usage count and service life so you know what you're really getting.
You can choose to buy non-OEM parts, but again, you need to get them from a trusted vendor. If a contract seller is buying parts from unregulated, uncertified suppliers, what you save in purchasing the tubes could be overshadowed by what you'll spend with downtime, labor rework and other potential issues that arise from using unreliable parts.
Remember—just because you want to buy a new tube doesn't mean you have to buy from an OEM supplier at their asking price. There are lots of options from Non-OEM replacement suppliers. As long as they are trusted, carry a warranty and have been system-tested, they can be a good option.
Buying a Used Tube
When you purchase a refurbished tube, you usually get a short warranty. These can last on average 30-90 days and the warranty itself is pro-rated. That means if your newly-installed X-ray tube fails on day 29 and you only have a 30 day warranty, you only get credit for 3% of the purchase price. If you do choose to buy a used or refurbished tube, it's so important to buy from a reputable supplier. You don't want to be stuck with a tube without a warranty with value and the reality is, there are people out there who will try to take advantage of you.
Be aware that there are many different kinds of tubes on the market: refurbished, remanufactured, repaired and tested. It's important to understand the precise definition of what you are purchasing if you buy a used tube versus a new one. It really comes down to doing your homework.
Talk To An Expert
Not sure whether you should buy new, used, repaired or certified refurbished tubes? No worries! Talk to an expert at Atlantis Worldwide. We'll listen to your needs and help you navigate the options so you get what you need within your budget!
Follow Atlantis Worldwide on Twitter: @AtlantisLLC
Other blogs you may have missed:
About the author: Vikki Harmonay