It's been more than a month since the CDC and Surgeon General recommended the cancellation of elective surgical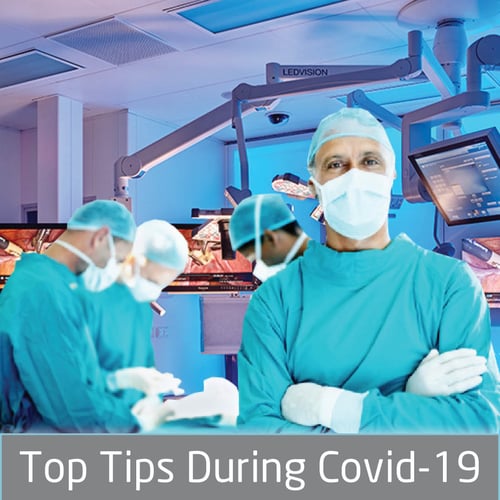 procedures in the U.S. Now there's an enormous backlog of demand for elective surgical procedures and we are edging towards the ability to once again proceed with these elective surgeries. Here is a list of the principles and considerations to guide healthcare professions in the resumption of care in operating rooms and all procedural areas.
If, in your geographic area, there is a sustained reduction in the rate of newly diagnosed COVID-19 cases AND if your healthcare facility has the appropriate number of ICU and non-ICU beds available, as well as protective equipment, ventilators and trained staff to treat all non-elective patients without resorting to a crisis standard of care, then it might be time to move forward. Any resumption of care should be authorized by the appropriate state, county and local authorities. In addition, there should be enough trained and educated staff to the planned surgical procedures. Take into consideration health care worker fatigue and the impact of stress.
You should use available COVID-19 testing to protect your staff and patient safety and have a policy in place for testing. You should make sure testing is available, accurate and addresses current evidence concerning tests. In addition, there should be a quick turnaround time for test results. If testing isn't available, consider instituting a policy that addresses evidence-based infection prevention techniques, access control, workflow and distancing processes. Health care workers should be tested and there should be a policy in place should a COVID-19 positive worker or patient be identified.
Healthcare facilities should have adequate PPE and surgical supplies on hand that are appropriate to the number and types of procedures to be performed. This should include supplies required for a potential second wave of COVID-19 cases. Healthcare staff should be trained for the proper use of PPE. Policies for conservation of PPE should be developed, as well as policies for the extended use and reuse of PPE per CDC guidelines.
Case prioritization and scheduling policies should be in place. There should be objective priority scoring (MeNTS instrument), with a prioritization of cancer, organ transplants, cardiac and trauma procedures. There should be a phased opening of operating rooms. Outpatients/ambulatory cases should receive priority over inpatient surgeries. There should be enough primary personnel available to address the increased volume and hours, as well as the adjunct personnel needed. Likewise, there should be adequate hospital beds, intensive care beds, ventilators, anesthesia drugs, procedure-related medications, sutures and disposable and non-disposable surgical instruments.
Facilities need to adopt policies to address care issues specific to COVID-19 and the postponement of surgical scheduling. This includes establishment of guidelines for a preoperative assessment process, a guideline for timing of re-assessing patient health status, having directive discussions with surgeons regarding older or frail patients, and assessing post-acute care.
Facilities also need to reevaluate and reassess policies and procedures based on COVID-19 related data, testing, resources and other clinical information. Use data from local authorities and government agencies, regarding COVID-19 numbers, availability of beds, PPE, ICU and ventilators and consider quality of care metrics.
Facilities should also have and implement a social distancing policy for patients, staff and patient visitors in non-restricted areas in the facility that meet current national and local recommendations for community isolation policies.
The Guidelines and References listed above are from: American College of Surgeons
At Atlantis Worldwide, we, along with all medical imaging companies, heath care facilities and personnel continue to monitor the impact of COVID-19. As we continue to navigate the situation during these challenging times, we hope that you and yours are experiencing wellness and safety.
Some blogs you may have missed:
About the author: Vikki Harmonay