Big news! Now MRI Scanners can be brought to the patient, instead of patients having to go to them! Hyperfine Research has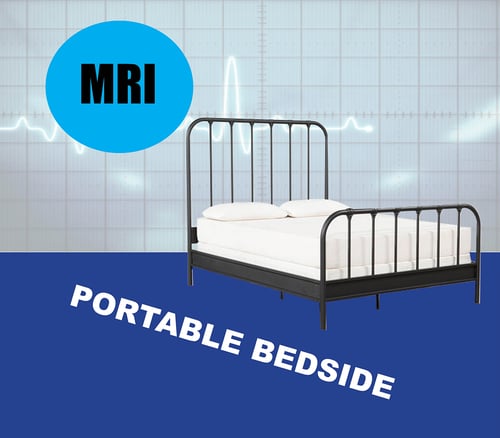 created a portable, low-field bedside MRI system. Ideal for scanning the head, neck and extremities in nearly any clinical situation, Hyperfine's Lucy point-of-care MRI will be ideal for use in emergency rooms, intensive care units and facilities that currently don't have access to MRI in a conventional clinical setting. It could bring the modality to underserved areas in rural settings and remote villages.
Weighing in at 1,400 pounds, it's an order of magnitude lighter than a conventional MRI. With the help of a motorized wheel on the bottom, it's easy to transport the scanner from room to room without having to actually push it. It runs from a standard power outlet and because it uses low-field magnets, it's safe around other equipment. It's built around a 0.064 Tesla Magnet.
Officials at Connecticut-based Hyperfine say the machine will cost only $50,000, or 20 times less than traditional systems. It runs on 35 times less power and weights 10 times less than traditional 1.5T MRI machines.
It's been approved by the FDA for head imaging for patients two years and older.
The development team will perform further research to scan ore patients, improve image quality and employ machine learning to extract vast amounts of its novel imaging data.
Jonathon Rothberg, Ph.D. founded Hyperfine in 2014 and chairs the company. He said, "Six years ago, a dream to create a portable, affordable MRI system was born. We assembled an astounding team, and the took the 10-million-fold improvement in computing power since MRI was invented, the best of the billions invested in green electronics and they built something astonishing, something disruptive."
At Atlantis Worldwide, we're always excited about new medical imaging technology. After all, we've been helping hospitals, clinics, practices and other healthcare operations find the ideal medical imaging solutions for more than 27 years. While we won't see the portable MRI unit on the used and refurbished market for years to come, we do have affordable solutions that can provide the medical imaging you need that will fit your budget.
Some blogs you may have missed:
Meet the author: Vikki Harmonay