In the constantly evolving world of healthcare and medical imaging, what's new today could be in need of an upgrade tomorrow. It's a challenge many hospitals and radiology offices face as they attempt to keep up with advancing technology. It's also a primary consideration when hospitals and clinics decide to replace or update their existing equipment. When budgets are tight, many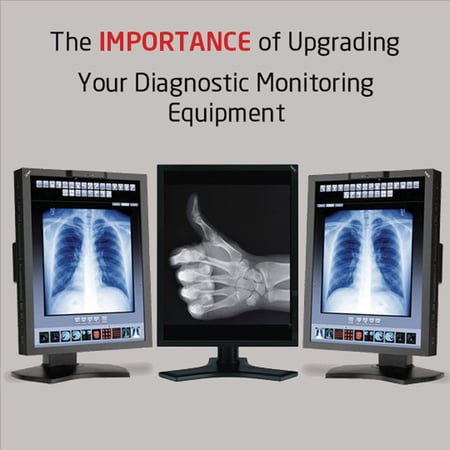 administrators must carefully decide whether the current equipment is negatively affecting patient outcomes or preventing the staff from making accurate diagnoses. It is a far too common assessment that can lead to older pieces of equipment remaining in use because they meet the minimum requirements.
One of the important areas that is often over looked are the diagnostic monitors connected to X-Ray, MRI, mammography and other radiology equipment. Unfortunately there are many hospitals and clinics that have chosen to take a wait and see approach with making updates to these diagnostic monitors. However, what many hospital and medical imaging administrators are coming to realize is that updating the diagnostic monitors is also a cost effective way to extend the life of certain radiology equipment, improve results and make diagnosis easier for doctors and technicians.
Establishing the Standards
In 2005 the American College of Radiology (ACR), the American Association of Physicists in Medicine(AAPM) and the Society for Imaging Informatics in Medicine(SIIM) joined together to develop guidelines and make recommendations that apply to diagnostic monitors. These organizations examined the current state of diagnostic monitoring equipment. In their report, Assessment of display performance for medical imaging systems, the AAPM Task Group 18 (TG-18) stated:
"Considering the fundamental importance of image quality to the overall effectiveness of a diagnostic imaging practice, it is vitally important to assure that electronic display devices (also termed softcopy displays) do not compromise image quality as a number of studies have suggested."
Recognizing the growing fidelity of X-Ray, MRI, mammography and other radiological technology, the group created new standards that could insure the accurate diagnosis and interpretation of medical imaging results for years to come. The results and suggestions of this 2005 study were widely adopted across the United States. However in 2012 the group again updated these technical standards to address the huge advancements in display technology. Notable changes in 2012 take into account many of the features we currently take for granted in our own homes but have not yet found their way into the workplace.
Some updates include:
Implementation of newer technologies – Implementation of improved Liquid Crystal Display (LCD) and Light Emitting Diode (LED) technologies used for displays in notebook and other smaller computers.
Format changes – Wide screen viewing angles for more coverage.
Connectivity – Digital formats such as HDMI and DVI-D instead of VGA.
Brightness Standards - Monitors used for diagnosis must meet a minimum brightness of 350 cd/m (candelas per meter squared), while monitors used for interpreting mammograms must be at least 420 cd/m. For other types of displays (typically referred to as clinical or review displays), the minimum calibrated brightness starts at 250 cd/m.
Unfortunately when the updated guidelines were introduced in 2012, the task group did not create requirements for when these updated standards needed to be implemented. Now years after the updated standards were introduced there are few organizations that have fully implemented the diagnostic display upgrades. The 2005 standards are still predominant.
Reasons to Upgrade Now
There are many reasons it's in an organization's best interest to adopt the 2012 guidelines now.
New monitors are more widely available, less expensive and have more capabilities than their predecessors.
Monitors that meet the 2012 standards are designed for clarity and image quality making it easier for radiologists and physicians to read and interpret the results with confidence, thereby reinforcing the quality of the practice.
Most monitors are no longer limited to one modality and can be used in X-ray, MRI, and mammogram stations. A single screen can now be used for multiple pieces of equipment.
The 2012 guidelines were included as a part of the ACR's Practice Parameters and Technical Standards in 2014.
At Atlantis Worldwide we encourage you to take the time to examine the specifications on your X-Ray, MRI, mammography and other radiology equipment and see if your diagnostic monitors meet the 2012 standards. Depending on when you purchased your equipment (and who you purchased it from) you may already be good to go. If you discover that your monitors are in need of upgrade, make the smart decision to contact Atlantis Worldwide. Our knowledgeable team of engineers and technicians are up to date with the latest guidelines and specifications and can make sure you purchase the right diagnostic monitors for your organization.
Future proof your radiology equipment today.
Contact Jeff Weiss at 212-366-9100 or jeffweiss@atlantisworldwide.com
Some blogs you may have missed:
Meet the author: Vikki Harmonay