What on earth does a world famous hamburger franchise have to do with the history of medical imaging equipment? Quite a bit,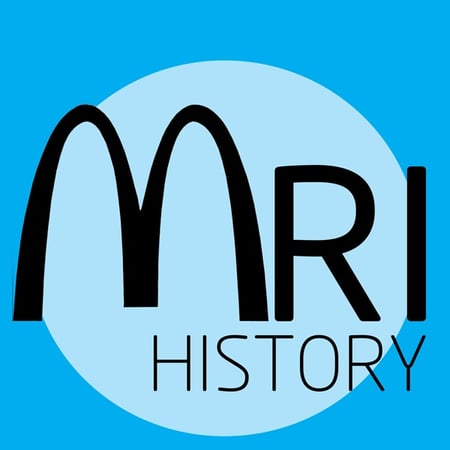 actually. Let's step back in time to 1983, when 36-year-old pathologist Bob Kagan fell in love with MRI at a medical conference in Colorado Springs. Presented as an imaging technique by physicists Paul Lauterbur and Peter Mansfield, with grainy indistinct images. But Kagan could see potential. Unfortunately, his employer at Holy Cross Hospital didn't share his vision. So his attorney brother suggested he form a limited partnership consisting of physicians to back his business venture. Plastic surgeons, ophthalmologists and cardiac surgeons decided to participate, giving him the cash to purchase a scanner from Diasonics, which Toshiba ultimately bought in 1989 for $187 million!
So where does McDonalds come in? Kagan needed a place to put the scanner and he was looking for a freestanding building because there was concern that MRI scans could damage pacemakers. The only such building near the hospital was a McDonald's, so he walked in and offered to purchase it from none other than Roy Kroc, the CEO that built the hamburger stores into a mega business.
Kroc sold the building for $550,000 with one caveat—it couldn't be a restaurant, or even look like one. Kagan removed the golden arches, gutted the building and filled in the windows to protect from flooding in case of a hurricane. He spent $30,000 on radio-frequency shielding made from copper. Then Kagan traveled to Pasadena to learn how to read MRI scans with MRI pioneer Bill Bradley at Hunting Research Laboratories—who labeled Kagan a "doc in the box," confusing McDonald's with Jack in the Box.
MRI use skyrocketed in the 90s, but there were still fewer than 10 MRI scanners per million Americans in 1993. In 2015, that number peaked at 39 MRI scanners per million. Visionary Kagan saw the potential, made his vision a reality and his medical imaging center is still open today, bringing in more than $5 million in revenue annually.
Of course today new technology is being introduced almost by the minute. And while these ideas may not find a home in a McDonald's, most certainly we'll see them in medical clinics, practices and hospitals nationwide.
At Atlantis Worldwide, we love learning more about the history of medical imaging—almost as much as we enjoy seeing MRI technology evolve and improve.
If your clinic, facility or hospital is in need of new medical imaging equipment, we encourage you to explore using refurbished or Certified Pre-owned equipment. Oftentimes it can provide the technology you need without the high price tag of brand new equipment—plus you can get impressive warranties and installation services, as well. Talk to one of our experts today!
Follow Atlantis Worldwide on Twitter: @AtlantisLLC
Other blogs you may have missed:
Meet the author: Vikki Harmonay