The widespread popularity of Open MRIs is based on patient comfort. Patients generally prefer comfort and given a choice would choose an Open MRI. However, just because of basic physics, a closed bore MRI will always generate higher quality images.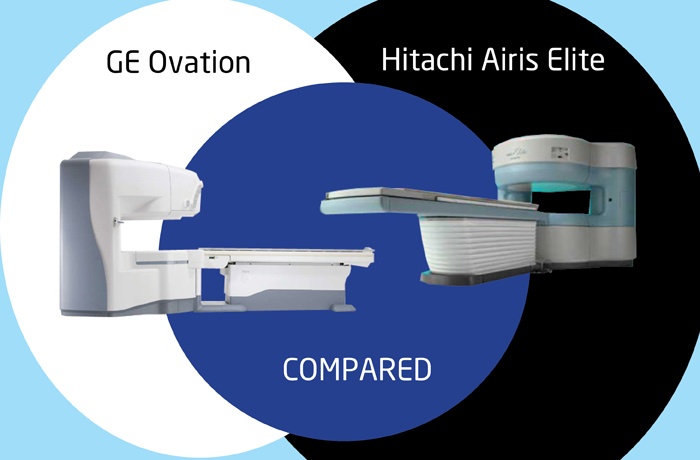 Based on client population and the procedures performed, many clients still purchase Open MRIs in order to attract patients that might be claustrophobic.
The two most popular Open MRIs generally available are the Hitachi Airis Elite and the GE Ovation.
What the Airis Elite & Ovation MRI Have in Common
Fat Separation
A wide variety of fat suppression and water-fat separation methods are used to suppress fat signal and improve visualization of abnormalities. The Airis Elite offers Higher Order Active Shim that enables RF fat saturation at 0.3T. The GE Ovation has the magnet strength of 0.35T for fat saturation.
Phased Array Coils
This type of coil allows parallel imaging that are multi-channel with each channel having its own receiver. The use of these coils shortens the scan time by signal to noise ratio (SNR) and resolution.
Both the Airis Elite and the Ovation offer phased array coils. The Hitachi Airis Elite offers RAPID Parallel Imaging Technology with a 4-channel receiver. A few of the GE Ovation MRIs have an 8-channel RF, but not all models.
Specifications of GE Ovation
Higher Field Strength
The Ovation field strength is 0.35T compared to Hitachi Airis Elite which is 0.3T. The slight difference means that the Ovation has faster scans and a little better image.
Motion Correction Software
The GE Ovation has an upgrade option to a software that corrects for patient movement during a scan called Propeller. This is not an option for the Airis Elite.
Bolus Tracking
Contrast-enhanced MR angiography (CE-MRA) requires that imaging be initiated at or near the peak time of contrast arrival in the patient. Semi-automated tracking and triggering software are mostly used to estimate the bolus arrival time. The GE Ovation, utilzies TRICKS (Time-Resolved Imaging of Contrasts Kinetics). CE-MRA is available with the Airis Elite but does not compare favorably to the Ovation.
Costs
Depending on the features within the models of the GE Ovation MRI and the Hitachi Airis Elite they both are in the same price bracket. Both are priced at approximately $175,000 installed.
Conclusion
Both MRIs are great systems. When looking for refurbished and used MRIs it can be a waiting game unless you know first-hand that one is available. It pays to start looking way in advance if you want a particular system.
If you need MRI systems for your practice, clinic or healthcare facility, be sure to consider Atlantis Worldwide's quality refurbished equipment. We can assist you obtain the technology you want—as well as the warranty and service you need—at much more affordable rates. It makes sense to talk to an expert, like those at Atlantis Worldwide. Contact Us Today!
Some blogs you may have missed:

About the author: Vikki Harmonay