Our Team from Atlantis Worldwide will be in Louisville Kentucky this week from Wednesday May 17th to Friday May 19th! Please stop by our booth at the ASCA Conference taking place at the Kentucky International Convention Center. (221 S 4th St, Louisville, KY 40202)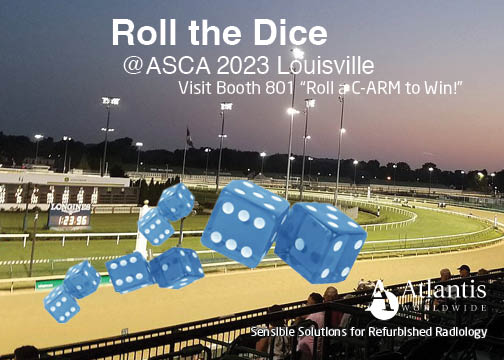 If you come by to see us at The ASCA, you will have a chance to enter the "Roll the Dice" contest at our booth. Roll once, and if the dice spells out "C-Arm" you win.
We had many winners over the years and here they are:
Check out our winners from the last years- in Dallas 2022, in Nashville 2019, in Boston 2018, in D.C 2017, in Dallas 2016, in Orlando 2015, in Nashville 2014 and 2013 in Boston!
Be the winner this year!
Visit Atlantis Worldwide at Booth 801 and "Roll the Dice" at a chance to win a $25 Gift Card.
Also when you stop by the Atlantis Worldwide booth you will learn about our refurbished and used C-Arms. To find out even more, check out C-Arm 101—its the most comprehensive, informative guide and can help you with all the decisions and planning necessary for a successful C-Arm project. After all, when you're making a purchase that's going to cost thousands, you want to make sure it fits your needs, as well as your budget.
As always, the Atlantis Worldwide team is always just a phone call or e-mail away, should you have any questions! Please contact Alex Silbergleit at 212-366-9100 or email Alex@atlantisworldwide.com
Some other blogs you may have missed: