C-Arm fluoroscopy is used in many areas and you should be aware how to protect your surgeons, patients and staff from the invisible dangers of radiation. Time, distance and shielding are the basic guides for safely using radiation.
Here are some guidelines & tips:
Achieve the lowest possible dose of radiation – As Low As Reasonably Achievable (ALARA)
Take image using the low-dose setting.
Use pulse fluoroscopy to capture intermittent images - the shorter the fluoro beam-on time, the lower the patients exposure.
Exposure can be reduced by positioning the patient as far as possible from the x-ray tube and close as possible to the image intensifier.
Decreasing the x-ray field size can also reduce patient exposure.
Lead Aprons & Shields
Use lead aprons to guard against a significant amount of radiation
Lead shields protect only part of the body but should also be worn.
Protective eyewear with lead lining and thyroid shields can also be worn.
C-Arm drapes can help reduce the danger of scatter.
Monitor Exposure
Use monitor tags for staff members to wear on their lead aprons
Your Radiation Safety officer should monitor the staff tags to make sure the exposure is not increasing month to month. If there is a big jump it might indicate the C-Arm needs to be recalibrated.
Evaluate your C-Arm Unit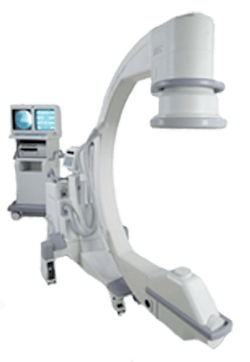 C-arm units are required by law to be evaluated by a radiation physicist at least once a year
If you are using it daily it is wise to have it checked twice a year.
The older model C-Arms might increase or decrease the output as they age.
Knowing the radiation output and having the necessary adjustments is key.
Educate
Education is a major factor in monitoring and reducing exposure.
A qualified expert such as a radiologist, radiological physicist, or health physicist should conduct training for your staff.
If you have an questions please contact Alex Silbergleit at 212-366-9100 or alex@atlantisworldwide.com

Here are some blogs you might have missed: